Hello My Name Is Jimi
Q&A with Survivor's Jimi Jamison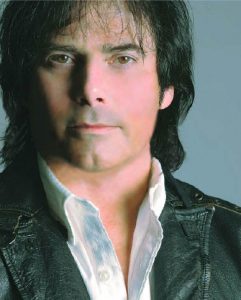 IE: What did the city of Chicago mean to you during the Survivor days and how about now?
Jimi Jamison: Chicago is such a blessing and I didn't realize what a great city it is until I joined Survivor. People in Chicago are the most gracious, loyal fans you could ever ask for as a band member or solo artist and I owe a lot to Chicago.
IE: Did you realize you had a hit on your hands with Survivor's Vital Signs album or did its multi-platinum status come as a surprise?
JJ: I went in and sang to the best of my ability and with feeling hoping for the best. And I remember driving from Schaumburg to Chicago and hearing "High On You" four times on the radio, thinking to myself, "Wow, this is unbelievable."
IE: How do you account for the band dominating the airwaves during the '80s?
JJ: It pretty much stemmed from MTV because before MTV, nobody really knew what Survivor looked like. But after videos, everybody knew what everybody looked like and it was kind of wild going to a store to buy something embarrassing and hearing "Can I have an autograph?" I'd say, "Sure, but let me get my motor oil first!"
IE: What led you to going solo?
JJ: We had done an album called Too Hot To Sleep [in 1988] and we all thought it was the best we'd made, but there were internal problems between the label and distributors . . . We just stopped playing and there was no Survivor for a couple years, so I went solo since there was nothing going on.
IE: How did you score the "Baywatch" theme as your first solo song?
JJ: I got a call from the producer and knew it was a big show, but didn't realize how big. It was actually the number-one show in the world for a long time and I'm sure people all watched because of the song, not because of girls with bikinis, or so I'd like to think!
IE: You also returned to TV recently for the Starbucks commercial. What inspired the tongue in cheek approach to "Eye of the Tiger"?
JJ: The owner is a big sports fan and said, "I wonder if we could get 'Eye of the Tiger.'" So [Survivor guitarist] Frankie [Sullivan] and I went in the studio and did a parody so they didn't really have to use the song itself and it was meant to be kind of a funny, '80s thing. Everybody was dressed in black and I wore an almost clown-like outfit of snake skin that was pretty wild. If you take yourself too seriously, you're not going to enjoy yourself as much and I've always taken everything with a grain of salt.
IE: Did your reunion with former Survivor keyboardist/songwriter Jim Peterik on your new CD, Crossroads Moment, come as an attempt to recall the band's classic sound?
JJ: It's a natural thing to sound something like what we did, but we weren't going for a Survivor record at all. We listen to a lot of today's music, but aren't trying to copy anything. We just went in very naturally and came out with a lot of great harmonies. I don't know another way to describe it other than classic, melodic rock.
IE: What's the meaning behind the title?
JJ: The whole idea of Crossroads Moment is you reach a certain point in your life where you can go one way or another and make a decision with what you want to do. Everybody in the world comes to a point where they have to face a decision, and in this case, Jim and I realized we needed to do another record.
IE: You're on tour with a lot of different projects, but let's start with the format of your solo shows.
JJ: I do all the songs I did with Survivor and also my own solo stuff, maybe one from Empires, two or three off the new record, and the "Baywatch" tune.
IE: What's the format of World Stage these days?
JJ: Well that's something Jim Peterik started and spearheads and we do a couple of really big shows a year where I do three Survivor tunes, maybe a solo tune and so many other artists collaborate throughout the evening. Jim and The Ides Of March do "Vehicle," we've had Don Barnes from .38 Special, Kelly Keagy from Night Ranger, Kevin Chalfant from The Storm, and all sorts of different people rotating in and out all the time.
IE: You and Kevin collaborate with Voices Of Rock Radio as well, correct?
JJ: Kevin man, he's like my brother and I have such good time playing with him. He's the singer Journey should've had after Steve Perry, and I know they have that other guy now [Arnel Pineda], but I think Kevin would be better! But the Voices are me, Kevin, Derek St. Holmes from the Ted Nugent Band, Wally Palmer from The Romantics, and John Cafferty [Beaver Brown Band, Eddie And The Cruisers]. We just did a huge festival in Belgium as well as festivals here in the States.
IE: And aren't you also part of RPM and Scrap Metal?
JJ: RPM [Rock & Pop Masters] is another collective where a lot of guys come in and out when they're available, like myself, Edgar Winter, Don Barnes, John Cafferty, and many more, which has turned out to be a really fun thing that we happened to get paid for! And I also play with Scrap Metal occasionally, which is Matthew and Gunnar Nelson – who are Ricky Nelson's sons – plus Kelly Keagy, Mark Slaughter, and Eric Martin from Mr. Big. Everyone's a lot of fun and it's not a bunch of giant egos, but really a brotherhood of singers.
IE: How are you keeping up with all the music industry changes these days?
JJ: It's the same with every business right now, but the music business is in a tough time right now too. The economy is so bad it's really hard to get people to spend money to be entertained, even though throughout history like during the Great Depression days, it's always been a big part of everybody's lives! But it seems to be picking up a bit more now. Radio is killing me and I'd love the new stuff to get played, but I'm trying to use the Internet to my advantage. There's such a selection of diverse bands between Myspace and Facebook that it's like shuffling a big deck of cards.
IE: What are your overall musical goals at this stage of your career?
JJ: I want to go for all the marbles to be honest with you! I haven't had a manager in a long time and am looking to [cement] that, but I'm going to keep doing what I do. Radio changes quite often and they play all the old hits by classic rock bands like Journey and Survivor, but now I'm trying to get them to start spinning the new stuff we've all been making!
Jimi Jamison's Crossroads Moment (Frontiers) is available now. Q&A by Andy Argyrakis.