Drums & Bass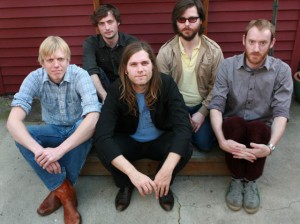 Eric D. Johnson finally feels the power of rock 'n' roll. Years ago, he fell in love with a band who took pride in deconstructing it. Then the Fruit Bat warmed to a utopian, collaborative ideal before settling on toting his acoustic guitar from tree to tree. Before long he ran with some brainy lads who showed him the world from their glorious, indie promontory.
Appearing: September 20th and 21st at Schubas in Chicago.
And then he got himself his own band. And it swings.
"I wanted a real rhythm section," Johnson says. "On the previous records, there wasn't always full drums on everything – in fact, a lot of times there weren't even drums at all, they were electronic or just percussion. And I never had a real bass player on any of those records. It was always me or somebody else. So having a consistent rhythm section would be the place I was most lacking. I've played drums on my records before, but I can't play real drums. Not in the loose, Levon Helm way I was looking for. That was key, getting the bass and drums from people for whom that was their number-one focus."
And so, on The Ruminant Band (Sub Pop), Fruit Bats are finally a band. O.K., so Ruminant isn't frothing with sex, Marshall stacks, and amphetamine beats, but building its songs with musicians and ceding some control has gone a long way to validating the name as a moniker instead of some Naperville Central grad's pseudonym.
"For the first record," he explains, "I wanted it to be a collaborative collective. But because it was me who put the whole thing together, it ended up being mine. But I had a picture of it with other people writing for it and everything. Through each's random reason, all those people ended up out of the picture and once we toured and saw that people were interested in the band, it went beyond the idea of being a casual collective. Nobody was going to put into it what I wanted to put into it, hence it did become a solo thing. But that was a happy accident, really. On the second record [2003's Mouthfuls], I had Gillian Lisee in the band and we were starting to be more of a duo. I was trying to get her to write more, but she was timid about that. By whatever reason it's always come down to me."
Make no mistake, Fruit Bats still largely are/is Johnson. Bassist Christopher Sherman, guitarist Sam Wagster, multi-instrumentalist Ron Lewis, and drummer/producer Graeme Gibson all figure heavily on The Ruminant Band, but Johnson wrote all the music and lyrics. As he tells it, however, the record probably wouldn't have come within several acres of where it ended up were it not for them.
"There had been so many times," he sighs, "where I would make a record, put together a band, hit the road, and then come up with a million better ideas for the already-recorded songs. So this time I had a little extra time, I put the band together, we got to play a few times, actually did a little tour and played all the new songs, and then recorded. I've never done that before and I feel like it was the smartest thing. Breathe a little life into them, see what they'll be like on stage."
No one would be impressed if his ringers altered the course of some nascent jingles, but Johnson says the pre-tour's greatest effect was on Ruminant's oldest, and supposedly most fully formed cut: the title track. "I think I came up with the riff when we were making Mouthfuls, but then forgot about it for years. I'd really demoed that a lot. It was probably more of a controlled, little acoustic ditty before and now I think it's got the sprawling guitar solo in the middle and more thump and bounce to it, which it probably wouldn't have had had it been recorded the old way."
Other songs might have fallen to Johnson to figure out on his own in the wee hours. But a bond formed with the new Bats, even if it took pain to yield results. "A song like 'Featherbed,' that had no arrangement. I think it was just 1 o'clock in the morning in the studio and I think the take that's on the record is just the second take of that. [Sherman] had dental surgery that day, so he was bleeding out of his mouth. Just one of those great studio moments," he laughs. "'Being On Our Own' went through dozens of stylistic changes. It started off as a strummy, Donovan-sounding acoustic thing, and eventually we worked it into a rolling folk-rock thing. For awhile it was a balls-out rock song, an Eno-sounding thing . . . that was totally frustrating and I was almost gonna leave it off until we came up with our country-reggae thing, which somehow just worked. We never expected it to."
No Fruit Bats album would be complete – possibly unable to be pressed by Sub Pop – without an appearance of some kind from his ties with Chicago's Red Red Meat/Califone. At least one of Tim Rutili, Jim Becker (both present on Ruminant), Ben Massarella, or Brian Deck have snuck onto each of four albums, which begs the question, aside from the record-label connection, does Johnson owe them money?
"Still to this day," he jumps to explain, "my mid-'90s self would not believe the relationship I've sustained with those guys. They were just my favorite band of all time during those first few [Red Red Meat] records. I was the biggest fan, and I didn't know them at all. It was a very serendipitous connection where I was working at the Old Town School Of Folk Music and I had a student named Stacy Sargent who was a friend of those guys and she hooked up my short-lived run as a multi-instrumentalist for Califone [their post-RRM outfit]. It set the ball in motion for everything I've done subsequently and everyone I've met. I kind of owe those guys my life, but I definitely owe Stacy. I was a huge fan, and Brian and Ben and Tim mentored me on the ways of the world and touring and all that stuff. I learned everything I know from them. That was my college."
The byzantine web is more intricate than you'd think. Deck has super clout as a producer for all manner of Sub Pop bands, though he, Rutili, and Massarella have also worked with Modest Mouse's Isaac Brock, who in some ways coached The Shins early on, who found themselves in need of a new member, and voila: Johnson. You'd think, with all the masters he serves, maybe, instead of turning his non-band into a real band, he should think about his Shins obligations, which are?
Find the September issue of Illinois Entertainer to find out.
— Steve Forstneger