Rocket To L.A.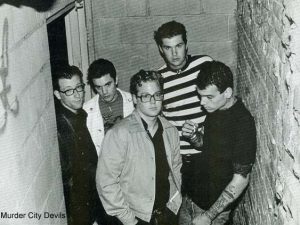 Music festivals tend to have an air of inclusion, a come-one come-all embrace that promises big-name acts and a sprinkling of enticing openers. Riot Fest, since its 2004 Chicago debut, has been different. This isn't to say it's exclusionary or private, but it's punk rock by and for punk rockers. Headliners such as Naked Raygun, Bad Brains, and Blue Meanies wouldn't titillate your average Hot Topic miscreant, much less a pack of festival hounds on break from Boozer State.
Occurring: Wednesday, October 7th through Sunday, October 11th at Congress Theatre, Metro, Subterranean, Beat Kitchen, and Cobra Lounge in Chicago. Click here for the full schedule.
"In all actuality, there was no grand idea behind Riot Fest," writes founder Mike "Riot Mike" Petryshyn, via e-mail. "I was working on my PhD in philosophy at Loyola and toiling at a law firm, and wasn't exactly content with what I was doing. In essence, I was none too excited about the things I was pursuing, and that's when the first inclination of Riot Fest popped into my head. In all honesty, I just wanted to throw a show in which my favorite bands performed. There was no big business plan behind the event or real strategy – it was just this homegrown festival that I put my soul into because I love the music and bands that much. So, about a month after the initial idea behind Riot Fest, I started to contact bands, and three months after that, the first Riot Fest took stage."
While the C3 folks have to constantly shoehorn Perry Farrell's latest project and Pitchfork enlists a number of acts no one likes, Petryshyn gets to pack his bill with artists he wants to see. While this has included some stunning reunions, he didn't start as the "it" guy every band wanted to be in with.
"From the very first year," he says, "I wanted bands like Naked Raygun, Screeching Weasel, NOFX, and The Mighty Mighty Bosstones to play. That obviously took a few years to develop, but, all in all, I go into each year with bands that I would love to see play the fest, and sometimes, like this year, everyone I pursue, from the Butthole Surfers to Alkaline Trio, confirm."
Ironically, Riot Fest's success has left its founder a little far from his original goal. "I'm not out there in the streets handing out fliers like I did in the early years," Petryshyn says. "But overall I still book all of the bands, manage the event, and have my hand in every aspect from promotion to front-of-house. As for enjoying the show itself . . . we laugh about that here at the office. I don't think I have actually ever really watched a full set by any of the bands because there are so many things going on that I can't sit there and be a fan. Is it frustrating sometimes? Sure, but, I'd much rather run the show and see smiling faces leave the event. That's my reward."
Smiles started to flatten this year when Petryshyn's physical condition began to wane. Gastro-intestinal problems have scotched a plan to introduce Riot Fest West in Los Angeles, and while the urge is to snort and ask who cares, there was also pressure to shutter Chicago. "There was no way in hell that I was going to let that happen," he insists. "This is our fifth anniversary, and the lineup is what I always envisioned what Riot Fest could be, so, even if I'm not there, it's all systems go . . . After a few hospital visits, I was advised to take the rest of the year off to start some treatment. With all of that said, postponing Riot Fest West was one of the most difficult decisions I've ever had to make. I mulled it over for about a week, and after discussing it with family and friends, it was probably the first time in five years that I opted to take care of myself first."
It's easy to see why his body is buckling under the strain. This year's shows are spread across five nights and an equal number of venues (Metro, Beat Kitchen, Subterranean, Cobra Lounge, Congress Theatre). The headliners include a trifecta of Chicago-based staples (Naked Raygun, Screeching Weasel, Alkaline Trio), punk's unspoken hierarchy (Dead Milkmen, Cock Sparrer, Butthole Surfers, NOFX, Murder City Devils), and support acts culled from Chicago's A-list (88 Fingers Louie, Pegboy, Shot Baker, The Arrivals). Wear a comfortable pair of shoes, is what we're saying.
"Of course there are people who have to make decisions about going to which show on which day," he sympathizes, "but I view that as a good thing because that's just a testament that we have a great lineup. We're a hub-and-spoke fest in one of the greatest cities in the world, and Riot Fest makes fans chase the town and experience Chicago. And, I think people, especially all of the out-of-towners, enjoy exploring Chicago in that way."
Petryshyn is adamant about not letting the festival eat itself, and is very committed to retaining an identity as he expands into other metropolises. "I've always thought that we have something special here in Chicago and why not let other fans share that same experience? Los Angeles, to me, was a no-brainer because of the amount of punk fans living on the West Coast. Granted, Los Angeles is a beast of a market with a ton of competition, but, nonetheless, I think our fest is special and would quickly gain a certain degree of popularity on the West Coast. As for the industry being a different breed in L.A., it certainly is, but the way I book and manage my festival hasn't changed one bit. My approach would not change just because we're expanding, so if I bump heads with 'industry' out there, so be it. I think we've earned our stripes."
So how true to its origins will Riot Fest remain? Once he's seen all his favorite bands and Joe Strummer is reanimated for a Clash reunion, will he be done?
"That's a tough question," he says. "I always told myself that I'd be able to stop doing Riot Fest once I booked a Bosstones reunion show – that happened last year. But, the funny thing is that Riot Fest has grown bigger than me, and there is a ton of people who look forward to it every single year. Of course there are days where I just want to stop because of the stress involved, but it would be the biggest regret of my life. As long as I feel that we have something special here, I'm going to keep on doing it year in and year out."
— Steve Forstneger
For more Riot Fest, including featurettes with Screeching Weasel, Dead Milkmen, and Alkaline Trio, grab the October issue of Illinois Entertainer, available free throughout Chicagoland.