Querelle
(Iamsound)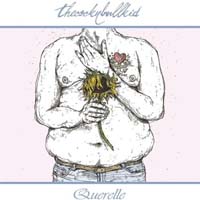 That Thecocknbullkid was born to Ghanaian parents and was reared mainly in East London isn't much of a tagline these days. If she's looking for an ethnic success story she need look no further than down the road to Stamford Bridge, where one of the world's most expensive footballers is from Ghana. Musically there's an even more unfortunate parallel, as she'll no doubt garner comparisons to M.I.A., who's been cross-globe island hopping between Ingerland and Sri Lanka for years.
The M.I.A. invocation is also unfortunate because it's false. Aside from a similar debt to electro, there's little connecting them. If the Sri Lankan's music is essentially a vehicle for an agenda, Thecocknbullkid aspires mainly to darkness-tinged dancefloor packers (The Guardian called her "Cherrissey," a cross between Neneh Cherry and Morrissey). Her Querelle EP is a shiny pop confection, nimbly programmed by Metronomy's Joe Mount so she can alternate between cooing, falsetto, rapping, and sounding a lot like Goldfrapp in Madonna mode.
Though we aren't given the same intro the folks at home did (Querelle's four tracks lack three early singles), we're still at the beginning. Anchored in '80s synth funk, "Clean Apart" and "Boys And Girls" fail to cede room to establish her, with icy vocals tightly hitched to the melodies. "I'm Not Sorry" reveals more of her professed dark side, but despite sequences where the disco intensity ebbs, you begin to understand why you need to know her heritage: it's the only thing that sets her apart.
4
— Steve Forstneger
Click here to download "Clean Apart."