Subterranean, Chicago
Saturday, August 22, 2009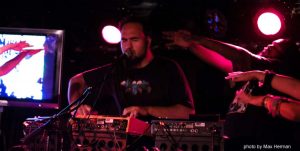 Solillaquists Of Sound calls its show a celebration, and with the unadulterated energy this quartet often brought to Subterranean's compact stage, there's not much to dispute.  
Much like the group's friend Sage Francis, this Orlando collective challenges the status quo every chance it gets. But the atmosphere S.O.S. creates with its thinking-man's hip-hop isn't seen everyday. The social activism is no doubt heavily showcased. The group's MC Swamburger at one point asked the SubT crowd if any people are stuck in dead end jobs. While MCs pose this kind of question all the time, he actually encouraged any miserable 9-to-5ers to quit and do what they love a.s.a.p. And that's the kind of vibe the S.O.S. crew projects: change for the better.
While all on the same revolutionary wavelength, each member brings their own specialty to the Solilla show. Vocally, the animated Swamburger provides the bulk of the raps and energy to this hip-hop party. His wife, Alexandrah, balances his intensity with her twangy neo-soul vocals and more laid-back presence. Backup vocalist and narrator of sorts, Tonya Combs, adds a softer, poetic element to the vocal arrangement. But the S.O.S. experience wouldn't be complete without its rambunctious producer/DJ DiVinci.
 
The way the group's three vocalists gathered around DiVinci at various points in the show, with arms extended and fingers fluttering towards the producer, there's no mistaking his importance. With three MPC production consoles at his station, and the way he recreates his bubbling work live, he could easily pull of a one-man show. But as a part of the Solilla crew, he brings the visual element lacking in many hip-hop shows. With his fingers, elbows, and nose (!), he uses the MPC pads to replay drums, guitars, and just about any imaginable sound. DiVinci reminds me of a classic old-school battle DJ who realizes that showmanship is sometimes just as important as actual skill.
 
As for the material itself, S.O.S. shared a lot of songs from its recently released sophomore album, No More Heroes including the bouncy "Marvel" and lyrically intense "Heroes." Every song seemed to receive a good response, but then again, people may have also been reacting to the multitude of the visuals of the set, including the comic book captions the group sometimes held up to complement a moment. "This is awkward," read one of the captions Swamburger displayed in response to some of DiVinci's antics. But when S.O.S. performed the high-BPM jungle-esque track, "Mark It Place," from its first album, the quartet didn't need any extra visual stimulants. The reaction to just the music was so strong that SubT almost turned into a rave.
 
After S.O.S. cleared the stage, the energy of the night didn't. While S.O.S. may not quite be the best hip-hop show you ever see, it's one that you won't soon forget. 
 
— Max Herman
Category: Live Reviews, Weekly