Schubas, Chicago
Friday, August 14, 2009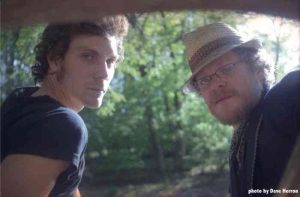 Much of the talk of The Duke & The King centers on Simone Felice, whose weary, near-whisper was put to good use with his kin in The Felice Brothers. His story since proceeding with the D&K side-project is rife with tragedy and feels somewhat tailored to the debut's cloudy tranquility. But who we're really dealing with on Nothing Gold Can Stay (Ramseur) is instrumentalist Robert Burke.
Not that zeroing in on Felice would deprive you. A rustic, The Band-like ease he brought to Bros. cuts like "Don't Wake The Scarecrow" and "The Big Surprise" shapes Nothing Gold from the ground up, and completely caters to anyone who wished Simone took a more dominant role in his now-former band. That his departure was largely precipitated by a lost pregnancy suffered by his lover might mistakenly lead people to scan the lyrics for his hurt, when what they'll ultimately find is a message of hope.
The reason Burke merits more attention is because he does things the Felices wouldn't (and, in many cases, you're glad they don't). His use of bells on opener "If You Ever Get Famous" helps recall an otherwise incongruous similarity to "For What It's Worth." With his guidance, Felice slips in and out of assorted '70s outfits (primarily James Taylor), though the touches are modern, not retro. His background vocals on "Water Spider" feel spontaneous — not in a way the Felices would break into an accordion solo — and caught in the moment, even if the production ("Suzanne") sometimes fails to serve the song. It's an intriguing pair, and one that would do well to brighten all the corners.
Claire Taubenhaus opens.
— Steve Forstneger
Click here to download "If You Ever Get Famous."
Category: Stage Buzz, Weekly