Lollapalooza recap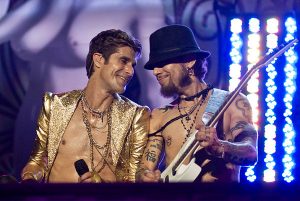 Because we don't want to rehash what went on at our live blog over the weekend, here we present Jaime de'Medici's Lollapalooza notes. Enjoy!
Early Friday, London act White Lies took the festival's north main stage. In spite of the steady, but not overpowering, rainfall, the black-clad lads attracted a respectable audience. In fact, the grey skies and wet atmosphere actually enhanced the band's morose and brooding rock, with vocalist Harry McVeigh belting out impassioned and tortured howls over emotionally charged '80s riffs by way of moody '90s alternative. Selections like the dramatic "Price Of Love" came across sweeping and heavy, with synth that recalled Mellon Collie Smashing Pumpkins at their most grandiose. And set closer "Death" demonstrated the act's skill at full-on arena rock, with McVeigh projecting like an old pro over fierce guitar, a mischievous keyboard riff, and pummeling, stadium-ready drums. It's not easy playing early on in the first day, and even harder to stand out after so many other acts have played. But White Lies demonstrated the hooks and the hunger to move on to bigger and better things, provided the States are willing to listen.
Over at the Perry's stage, Chicago DJ sensations Dark Wave Disco played to a crowd that never once even acknowledged the rain, let alone let it inhibit their enjoyment of the three-man team's set. It was a gathering that extended around the stage at all sides, while the trio provided a charged set of electro and blog-hit favorites. There was no escaping "Kids" by MGMT at various DJ sets around the city this weekend, and Dark Wave's set was no exception. Similarly, "Cold Dust Girl" by fellow Chicago Lolla talent Hey Champ proved to be another popular selection. But it was when the Dark Wave crew went a bit further back that their set truly took off, as it did during Basement Jaxx' "Where's Your Head At," a track that resulted in the entire crowd singing along, in addition to crowd surfing and girls dancing while sitting on a partner's shoulders. In fact, the set felt more like a '90s Lollapalooza rock set, just from the raw energy of the day's crowd. By the time the group brought up the never-fail robot rock of Le Castle Vania's "Zero Machine" and debuted a remix of Kill Hannah's new single "New York City Speed," the audience was sold and the rain no longer registered.
The energy at the Perry's Stage carried over into the set of another hometown act, this time mo-ped enthusiast/local rapper Hollywood Holt, with back up from DJ Million Dollar Mano. Sporting a showman's bravado (and a gold chain), Holt brought the crowd into the set with repeated call and response choruses. But in spite of the victorious tone of the boast-laden set, the rapper also displayed a sincere sense of awe at getting to play Lollapalooza, calling the achievement the "best day of my life," before returning to rapping about "avoiding the cops."
Piano rocker and professional smart-ass Ben Folds took to the north main stage in the mid-afternoon, delivering a set with mixed results. The singer opened with "Bitch Went Nutz," essentially a b-side version of a cut off his latest record, Way To Normal. The response was a collective blank stare across the field, as the joke sailed over the heads of the audience. It certainly wasn't the strongest opening ever, especially at a major festival on one of the day's main stages. Thankfully, Folds recovered and moved to more spirited material like the anthemic and infectious Normal number "Effington," and the understated but soaring "Landed." He dipped into more sensitive, adult-contemporary mode with Folds' cover of Dr. Dre's "Bitches Ain't Shit," though upon inspection, the song isn't really that sensitive. The rollicking "Dr. Yang" and buzzing guitar tones of "Hiroshima," however, upped the energy and the performance level of the set, despite some sound projection issues, where Folds and band came across slighter than many of the day's fuller-sounding outfits. The result was a set of mixed styles and, as a result, responses. But the moments where Folds embraced a more inviting approach paid off and showcased the best of the sarcastic piano balladeer.
On Saturday, Atmosphere's set on the far south side of the park found the group, and especially frontman Slug, in positive and appreciative spirits. The rapper eschewed much of his more negative and angst-ridden material, instead opting for more soulful cuts, like the introspective "Yesterday" off When Life Gives Your Lemons, You Paint That Shit Gold. The set provided a relaxed vibe for the day's clear skies and light breeze, especially on the aptly titled, laid-back jam "Sunshine." Slug occasionally visited older, more aggressive territory, such as the guarded and hostile "Trying To Find A Balance" off Seven's Travels, but even that seemed to have lost a bit of its bite. Which isn't necessarily too big of a drawback, as Atmosphere provided the perfect soundtrack of easy jams on a sunny afternoon.
They may not have been headlining, but Coheed And Cambria didn't let that stop them from turning in a monstrous performance of huge, arena-rock riffs and even bigger hair. From the fierce and dire tone of "No World For Tomorrow" to the battle anthem of "In Keeping Secrets Of Silent Earth: 3," the group applied thrash-metal riffs to prog-rock ambition for a set befitting of the main stage. The band even surprised with a cover of "Under The Milky Way Tonight," simultaneously heavy and spacy, putting their own stamp on the track by changing it up just enough and adding extra harmonies. But for the most part, the group embraced their arena-charged rock relentlessly, with frontman Claudio Sanchez even playing guitar with his teeth during the especially aggressive but melodic "Welcome Home." In a strange display of synchronicity, dragonflies, the group's trademark emblem on many of their record, flew throughout the field during the act's show, all but confirming that it as the right set at the right time.
In 1997, Tool headlined the traveling incarnation of Lollapalooza that dominated the '90s and supported the alternative nation. The group were out in support of Ænima, still their strongest effort to date, and, before the advent of the Internet, they remained almost entirely mysterious, refusing to appear in press photos, videos, and other promotional efforts. The band's set at the (then) New World Music Theater in Tinley Park brought the oft-shadowed band to light, and even featured the debut of visuals that weren't so much music videos as they were groundbreaking short films exploring new avenues of animation, clay-mation and stop-motion. It was a searing setup that cemented Tool's position as one of rock's more forward-thinking (and creepy as hell) innovators.
Unfortunately, that tour was 12-years ago, and since that time, it would be hard to argue Tool have made a wealth of progress. They've released two studio albums, 2001's Lateralus and 10,000 Days in 2006, embarked on some touring, and that's about it. Frontman Maynard James Keenan, however, has lived a lifetime over the last decade-plus, dividing his attention between other projects like A Perfect Circle, Puscifer, and even his own winery, Caduceus Cellars. All of which no doubt suggests creative fulfillment on the singer's behalf, but Saturday's headlining performance demonstrated just how little has been done with the Tool as a whole since the run supporting Ænima.
The group delivered a grab-bag set, dipping evenly into their last few studio efforts. Unfortunately, with no new material the show came across as much a best-of as anything else. Which, for some bands would be fine, but Tool always seemed like the type of unit that once-upon-a-time would have shunned such a move. Yet perhaps what most dated the band were the same videos for performances like "Stinkfist" and "Ænema," which were simply edited differently so as not to appear as if they just came out of storage. It was the equivalent of the the episode of "The Simpsons" where Marge continued to sew and hem the same designer dress in an effort to fit in at an elite country club. No amount of video remixing was going to mask the fact that Keenan has neglected Tool for some time now in pursuit of other endeavors. Which is certainly his prerogative, but it hardly makes for a compelling Lollapalooza headliner. The singer even shouted out his wine-making partner from the stage, before mentioning the harvest they were missing by Keenan headlining Lollapalooza this year. If the frontman had any desire to be at the festival this past weekend, he was hiding it better than his band's faces in the '90s.
Tool's lack of progress as a b(r)and and Keenan's obvious disinterest aside, the unit is surprisingly tight and incendiary as ever. The rest of the band's players have certainly had enough time off to take their craft to the next level. Drummer Danny Carey's turn on performances like "Schism" reminded anyone who forgot just how pummeling and powerful he can truly be. And guitarist Adam Jones and bassist Justin Chancellor are still light years ahead of even their contemporaries, evident in challenging productions like the building "Lateralus" and the uniquely catchy but indecipherable "Rosetta Stoned." Here's hoping Keenan decides to one day make use of such a talented unit once again, instead of just dusting them off in between his numerous other pursuits.
Perry's stage on Sunday continued the local DJ work Dark Wave Disco began a few days earlier, this time, with mash-up masters STV SLV and ABX, better known as The Hood Internet. The pair produced a jam-heavy set that emphasized fun above all else. Nowhere was this more apparent than the blend of '80s cheese "Girls Just Want To Have Fun" over Dizzee Rascal's "Fix Up Look Sharp," with the former's playful riff teasing in and out of the latter's pounding beat. As the duo dished out nonstop party tracks, a young, neon-clad fan crowd-surfed and danced along. The group built to an impressive crescendo, progressing with a mix of Green Velvet's "Shake And Pop" under Mic Terror's "Juke Them Hoes," (a selection from their Vs. Chicago digital mixtape), a sped up version of "Birthday Sex," and, appropriately enough, the genius mash that put the outfit on the map: R. Kelly's "I'm A Flirt" against Broken Social Scene's "7/4 Shoreline." It was a set that not only sounded like a party, but genuinely become one.
Passion Pit's midday set kicked off with a reading from a very-much-alive Thax Douglas, confirming that rumors of the indie poet's death were greatly exaggerated. Taking up MGMT's role from last year, Passion Pit performed at the festival's Citi stage, an area that faces a street but whose view is obstructed at every other angle. It proved poor planning as Passion Pit ended up as one of the day's bigger little draws, with crowds stretching down the block and out from all sides. One of the field side stages would have been a far better fit.
Musically, Passion Pit aren't yet at the skill level to match the interest, though to be fair, the digital age doesn't often give bands proper time to hone their craft. But what they lacked in a festival setting dynamic they made up for with danceable grooves, evident in the infectious "Little Secrets." Here's hoping next they hit a larger Chicago stage, they've had the chance to appropriately build their sound.
— Jaime de'Medici
Category: Live Reviews, Weekly