Ronny's, Chicago
Sunday, July 26, 2009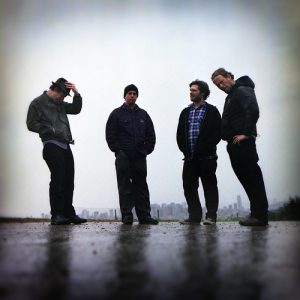 Alt-country bands can come from anywhere, which is why there's no need to raise a brow at Trainwreck Riders' Frisco origins. In fact, it's a boon for the band to have a little hometown weird on tap.
The Perch (Alive), the Riders' third pass, cleans up a previously messy, loosely cowpunk sound. The blogosphere's cut of choice, "Chug Along," reaches into Modest Mouse territory. None of this is a problem as long as the band execute, and The Perch, which puposefully ventures out of the past, has crunchy, melodic moments where they do. Opener "Safety Of A Back" best exemplifies this sometimes-awkward mix of old and new. A billowing accordion crowds the mix and makes the track sound like a poorly recorded Dropkick Murphys side. The alternative — axing the accordion — is offered immediately with "Weight Of The Day," and shows what a winsome power-pop band the Riders can be. In fact, as it did on 2007's Lonely Road Revival, Built To Spill remains a steadying influence. On "Lucia" and "Anything & Everything," you can almost hear BTS' formula being traced. Thrown into more podunk environs, however, like "Upon The Losing End" and "I Saw Your Eyes," you can see the band working on a new language.
Little Boy Jr., Bored Games, and Damp Hay open.
—Steve Forstneger
Click here to download "Safety Of A Back."
Category: Stage Buzz, Weekly