First Midwest Bank Amphitheatre, Tinley Park
Friday, July 17, 2009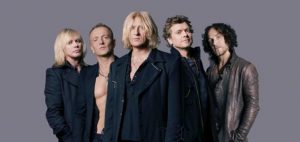 This past Friday, Def Leppard rocked a sprawling, First Midwest crowd eager to experience a band that claims to inspire the "Rock Of Ages." By the night's end, it proved the claim.
Cheap Trick and Poison were more than capable openers as the latter saturated the audience with "Talk Dirty To Me" and other expertly played hits. In case anyone had a lingering doubt, frontman Bret Michaels did — between harmonica solos and playful banter with guitarist C.C. DeVille — plug his infamous VH1 reality show, "Rock Of Love," and alleged that the show has enabled him to meet many beautiful Chicago women. As the band expectedly closed with its sensitive side showing ("Every Rose Has Its Thorn" belted out by Michaels, bandana and all), one couldn't help wish the guilty pleasure that is Poison would stick around a while longer. But then, the main event arrived.
Def Leppard opened with an eye-popping video collage, showcasing the band's history up through 2008's Songs From The Sparkle Lounge. Soon, the opening riffs of "Rocket" were heard as the band emerged to amorous applause. Joe Elliott sang in his iconic, ageless Leppard voice while action shots of Phil Collen, a smiling Rick Allen, and the rest of the band were projected on to the overhead screens. "Animal" followed, accompanied by a circus-themed slideshow not lacking in its depictions of tattooed pin-up girls.
After Sparkle Lounge's, "C'mon C'mon," the band performed its chart-topping anthem, "Love Bites," as a drop of blood slowly splashing into water played on video. Elliott's heart-wrenching vocals echoed the desperate mood set by the visuals and the audience was quick to sing the chorus and equal the passionate verve Def Leppard poured into the music. As the song came to a close, bassist Rick Savage transitioned into a smooth and electrifying solo that boomed past the stage illuminated in a deep, blue-shaded light. And, as the band moved into the second half of its set with the slow and sexy "Rock On," Def Leppard had more than met the expectations of its devotees.
— Stephanie Sadler
Category: Live Reviews, Weekly