Empty Bottle, Chicago
Thursday, July 23, 2009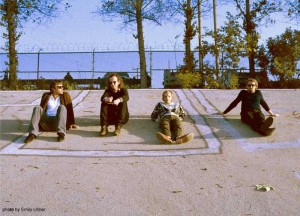 If you've never been to Los Angeles, you no doubt still feel you know it. Movies and TV are clearly responsible, and we've been clubbed with the idea of an "L.A. band," as if, post '80s, the phrase still has meaning. It doesn't define Foreign Born, anyway.
Maybe that's why they chose their name. Maybe it's because no one's really from L.A. – whatever. Foreign Born sound more like New York (though no one's really from there, either). It's something you not only hear in their sophomore album, Person To Person (Secretly Canadian), but see as well. You don't see a band, you see a place. It's poorly lit, you might trip over an extension cord, and you might wonder why someone hangs tin wind chimes in the basement.
It helps them get away with belting arena anthems that aren't all that anthemic. "Blood Oranges" feels less MSG than rain shelter. The thumping "Vacationing People" pulls out its postcards with a West African guitar lick, but then suppresses its urge to apply for a U.N. ambassadorship. If you're dying for a reference to some other band, I'll say The Walkmen. You won't hear them — "Lion's Share" is too pristine, too pre-Village Green Kinks. But you'll see it.
The Veils headline; Faces On Film open.
— Steve Forstneger
Click here to download "Vacationing People."
Category: Stage Buzz, Weekly