Subterranean, Chicago
Friday, July 24, 2009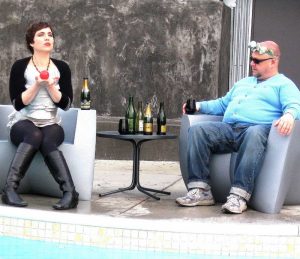 Black Francis must be in a good place right now. With the Pixies having exhausted their reunification options, he can put the band back to rest without having to hear that question for awhile. He has even stuck with his name, which he inverted when he went solo back in '92. But the largest symbol of his contentment is that he formed Grand Duchy – with his wife.
While part of us wishes Petits Fours (Cooking Vinyl) was brimming with Conway & Loretta-styled odes to family life on the range, it's equally relaxing that the album isn't ashamed to sound like the Pixies. It also, as "Lovesick" points out, isn't afraid to sound like "Gimme Shelter." Francis seemed to lose some of the jagged riffs as the Frank Black & The Catholics saga wore on, but he's willing to slice up the electronic coos of "Come On Over To My House" and "Seeing Stars." The nine tracks are touched up by unfussy blips and gurgles, making a point of the record's lack of agression. Violet Clark is purposefully no Deal, and actually assumes the mantle for a good half of Petits with a girly but tuneful sass. If that's her "Gigantic"-esque bassline on "Break The Angels," she can fill that role, too, but there's a distinct lack of urgency in Grand Duchy, which would normally set off alarm bells for a project involving Francis. He's done running, however. Honey, I'll set the table if you wanna put on some music.
Big Science and Empires open.
— Steve Forstneger
Category: Stage Buzz, Weekly