Schubas, Chicago
Friday, July 3, 2009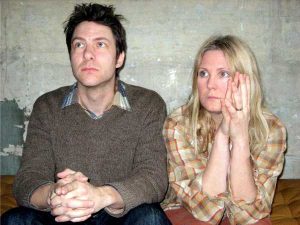 Chicagoans Janet Bean (Eleventh Dream Day) and Jim Elkington (The Zincs) have made their Horse's Ha side-project official. Sommeliers across the county can relax, as they've moved on to more salt-of-the-earth venues like Schubas.
The Horse's Ha have been rumored since the early half of this decade, allegedly a scheme by the pair to clean up in wine bars blanketing the North Side. Yet despite playing about and being charter members of an indie-rock culture that lives for recording side-projects and one-offs, Bean and Elkington never followed protocol. Well, imagine the looks on the faces of Shape Shoppe employees when The Horse's Ha rode in to record this spring's Of The Cathmawr Yards for downstate Parasol offshoot Hidden Agenda Records.
We can only guess at the fury unleashed by friends on album guests Fred Lonberg-Holm, Nick Macri, and Charles Rumback for not giving up the secret earlier. The efforts of this Chicago braintrust have resulted in an oaken, English-folk purity hinted at by the Cathmawr title and Elkington's London roots. Though the arrangements can be shadowy and foreboding, highlights such as "Wild's Empty Bedroom," "The Piss Choir," and "Tea Creek In The Dunes" paint a silver lining that makes the idea of Tindersticks-meets-Fairport Convention sound exciting.
Castanets headline.
— Steve Forstneger
Click here to download "The Piss Choir."
Category: Stage Buzz, Weekly