Vic Theatre, Chicago
Saturday, June 27, 2009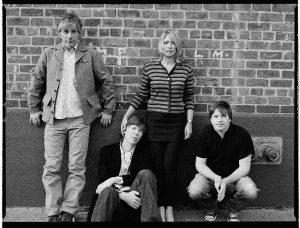 Sonic Youth have always seemed like a band who shouldn't exist. Or, more specifically, should no
longer
exist. In their embryonic stages, the New York-based quartet (stretched into a five-piece for this tour by adding ex-Pavement bassist Mark Ibold) could barely play their instruments. So they improvised by creating a new-noise approach that approximated Glenn Branca and married it to punk-rock fury. All of which is a blueprint for burning brightly and flaming out in a glorious flash of white light.
But there they were, almost three-decades later taking the stage at the Vic Theatre for the first of two shows that would come to surmise the aural personalities in their music that have gotten them this far. After a number of releases that showcased the band's more fractured song structures while hinting at cohesiveness (Sonic Nurse, Rather Ripped), they're latest effort, The Eternal (Matador), is an exercise in conciseness.
Unfortunately, these constrictions seemed to snuff out the fire in the players belly's. What has always made Sonic Youth such a combustible live act is their ability to completely unhinge themselves from each other and the moment, then somehow manage to all return to the center of the ring seemingly unscathed. Guitarist Thurston Moore did occasionally venture into uncharted territory. His six-string freak-outs on newer material like "Anti-Orgasm" and vintage milk like "The Sprawl" helped prove that, with only a drum stick and a distortion pedal, he has somehow managed to become an anti-guitar hero punching through into a post-"Guitar Hero" world. 
There were also moments of trascendence, supplied by the argument that keeping things simple can result in immense pleasures. During "Antenna,"  Moore, Lee Ranaldo, and Kim Gordon locked into a three-guitar groove orgy that was as much music as it was a thundering train. Even the normally stoic Gordon — whose icy cool radiates like an older aunt who always says yes when you ask her to buy you beer — let a smile slip from the corner of her mouth.
But then again, Sonic Youth have never seemed to care what people think. "Buy the ticket, take the ride" is what Hunter S. Thompson used to say. Dig us, don't dig us, we're going to do what it is we do. By the show's halfway point, the band had played nothing but songs from the new record. An audience member shouted to no one in particular: "Play the hits!" Moore fired back, "These are the hits."
— Curt Baran
Category: Live Reviews, Weekly