THE WOODSTOCK EXPERIENCE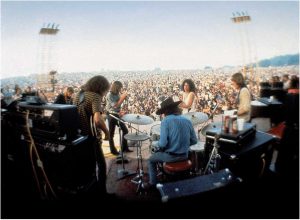 Amid the spate of 40th-anniversary Woodstock product (see "Spins"), Sony's Legacy arm believes five two-disc sets by acts who performed that long-ago weekend at Yasgur's farm stand out. Listing at $19.98 apiece, each one comes with an original, and in most cases classic, 1969 studio album (no big deal, as those albums are already available separately), original packaging and a poster (a medium-sized deal), and a live disc containing that act's entire Woodstock set (a big deal indeed, as the various Woodstock soundtracks contain only excerpts).
The five acts are, not surprisingly, those to whose catalogs Sony has access. They're also acts who were at or near their respective peaks at the time. So besides strong studio albums (Janis Joplin's I Got Dem Ol' Kozmic Blues Again Mama!, Santana's Santana, Sly & The Family Stone's Stand!, Johnny Winter's Johnny Winter), one gets live albums that both hold up on their own and function as a looser, more stoned mirror image.
But the set to get if you're only getting one is Jefferson Airplane's. Comprising Volunteers, which keeps getting better with age, and a live set including "Somebody To Love" and "White Rabbit," it's almost enough to erase the memory of the Airplane's eventual morphing into Starship.
Arsenio Orteza
AND JACKO WAS HIS NAME-O
As the Los Angeles streets flooded with fans and audiences in the millions tuned in from home, Chicago celebrated the life of Michael Jackson with a memorial simulcast at the Harold Washington Cultural Center. No stranger to the Windy City, the King Of Pop was raised just minutes away in Gary, Indiana, resulting in an overflowing house eager to scout out the big-screen scene beamed from the Staples Center.
"It is truly a pleasure to have this opportunity to pay homage to Michael Jackson, who touched my life and the lives of so many people," said Chicagoan Sandra Jones on her way into the screening. "As Michael aged, he still touched the lives of our youth and gave them inspiration to want to be entertainers and want to be something more as people."
As a line wrapped around the building and the Cultural Center filled to standing-room only, several DJs from WGCI and V103 (including the legendary Herb Kent, who was among the first to break The Jackson 5 on the airwaves) told stories about the late great's influence and hyped the crowd for the main event.
"I'm still basically soaking it all in and it seems so surreal," admitted Chicago's Cyrita Callhoun just before the live feed to Los Angeles. "When I wake up every morning, I have to remind myself Michael is really gone, but it's just so hard to fathom. He was so young and still full of spirit that's it's just hard to believe. I just wanted to be here today to participate in everything and show my love. He was a household name and it's kind of like I lost a part of my family. He has deep roots in Chicago and Gary, so he's a part of all of us."
Andy Argyrakis
AEROING DOWN
We know there are more pressing issues to tackle (plague, pestilence, Ponzi schemes), but we cannot get over the Skynyrd-esque tragedy of this summer's Aerosmith tour.
For those who haven't been scoring at home, our June cover stars had a bumpy route to this summer's Guitar Hero-sponsored jaunt. Guitarist Brad Whitford, whom we interviewed, had to bow out of some shows, including June 13th at Alpine Valley in East Troy, Wisconsin. The reason went undisclosed until July, when it was revealed Whitford, Rolling Stone says, "harshly bumped his head while exiting his Ferrari." We'd laugh, but instead of immediately joining Spinal Tap he had surgery on the bump. Not to be outdone, frontman Steven Tyler's problems forced some cancellations due to an "artist injury" the band wouldn't cop to. Fans at a June 29th concert in Connecticut told RS Tyler appeared to pull a leg muscle.
Then (yes, then!), bassist Tom Hamilton announced through the band's publicists that he would take an undetermined number of nights off to recuperate from "non-invasive" surgery. Let's hope he was having a force-field installed before Aerosmith hobble into First Midwest Bank Amphitheatre on August 28th.
SIMPLY FOLK
You people tell us all the time and we don't listen: More pictures! To prove we at least glance at your letters before burning them (for heat — July was chilly!), we offer you Chicago Folk: Images Of The Sixties Music Scene. Well, we don't offer it. Legendary photographer Raeburn (Ray) Flerlage and ECW press do.
Flerlage has already massaged local eyes with his 9-year-old tome Chicago Blues: As Seen From The Inside, and his latest compendium holds about 150 unpublished prints taken between 1959 and 1970. That means Odetta, Pete Seeger, Moe Asch, Arvella Gray, Staple Singers, Miriam Makeba, Joan Baez, Bill Monroe, and Son House in places like the University Of Chicago Folk Festival, Old Town School Of Folk Music, Gate Of Horn, and even Bob Dylan at a house party following a Christmas 1963 concert. Though some who were there might wonder if Flerlage was banned from The Earl Of Old Town, the book still presents a fascinating visual history and a priceless (unless you count the $23 you'll need) entry to anyone serious about Chicago culture.
— Steve Forstneger