THE DEVIL IN DETAIL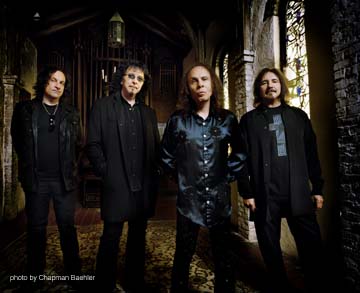 "I'll be shocked if The Devil You Know isn't absolutely awesome."
I typed those words in my April column. It was less than a month until said Heaven & Hell album's April 28th release and I, like many metalheads, was very excited.
Too excited, it turns out, because The Devil You Know (Rhino) is not "absolutely awesome."
To my credit, I had a qualifier: "Based on the three new songs the group recorded for the 2007 Dio Years compilation, I'll be shocked if The Devil You Know isn't absolutely awesome," was the complete sentence. It's very important, because all my expectations for the album were based on that trio ("The Devil Cried," Shadow In The Wind," and "Ear In The Wall"), but not a single track among The Devil You Know's 10 approaches that standard.
Don't get me wrong, it's respectable. I'll still listen to"Bible Black" (the closest thing to one of those holy shit Sabbath moments), "Eating The Cannibals," and "Turning The Screw" five months from now, but "respectable" isn't what we expect from Ronnie James Dio, Tony Iommi, Geezer Butler, and Vinny Appice. And personally, I don't subscribe to the theory we should just be happy a bunch of guys receiving McDonald's senior-citizen discounts (sans Appice, who's 49) can still crank out genuine heavy metal. Yeah, The Devil You Know is infinitely better than anything an Ozzy-fronted Sabbath lineup could have done. Duh. But in 2007 these guys recorded two really, really, really good songs and one great song. That was only two years ago. If you're capable of something like "Ear In The Wall" (which stands up to anything in the Dio lineup's catalog) when you're 59-years old, then you can do it when you're 61.
A good friend said, "I think the album might just be more of a grower. More Dehumanizer than Heaven And Hell." Right and wrong. The album is definitely better with each spin, and had I written this review after the initial listen, or even the first five, I would have coined it a total flop. Dehumanizer, though, wasn't a "grower." It ruled from the get-go. The very first track, "Computer God," hammered you in the head. Immediately. The Devil You Know has "Atom And Evil," a plodding (not generally a bad adjective when referring to Sabbath, of course) tune that promises, but fails to deliver, a huge climax. Dehumanizer had some speedy, almost thrashy, moments like "TV Crimes" and "Time Machine" as well, and The Devil You Know could use some similar pieces.
Again, it should be emphasized the album is in no way bad. With the exception of "Rock And Roll Angel," the mandatory Dio-going-way-over-the-top song of the record, Devil is good. Good. Not great. I predicted great. I anticipated the best metal record of the year but got, probably, a top-15-ish one instead. Boo fucking hoo, right?
Heaven & Hell plays Charter One Pavilion in Chicago August 19th. Coheed And Cambria opens, so you can avoid going early.
PAGANS & PIRATES: At least Tyr didn't disappoint. That's not to say my hopes for By The Light Of The Northern Star (Napalm) were as stratospheric as those for The Devil You Know, but they were high considering the band's last album, Land.
If you read this column last month, you know how Primordial's Alan A. Nemtheanga feels about Pagan metal. (If you didn't, he called it "one small step up in retardation from power metal.") I think it's good, fun music when honest and passionate — not done as schtick — though. And nobody does it better than Tyr. Frontman Heri Joensen takes a traditional Faroese (the Faroes are a small cluster of islands halfway between Iceland and Scotland) song/melody and, as he once told "Mosh," "puts "some heavy metal to it." That's what separates his band, and groups like Amon Amarth, from the Pagan/folk/ Viking scene: Tyr is really just a heavy metal group. Though Joensen occasionally throws in a cello or viola, Tyr doesn't fuss with accordions, bagpipes, and woodwinds. It's your standard two-guitar, bass, and drums lineup.
Every one of the nine songs on Northern Star (11 if you snag the limited-edition Digipack) is an instant anthem, and "Hold The Heathen Hammer High" might even replace "Hail To The Hammer" (from Land) as Tyr fans' official theme. Seven of nine songs are in English, too — considerably more than prior albums. Being a selfish American asshole, that's nice, but "Tróndur í Gøtu" and "Turiò Torkilsdóttir" are good enough to forget language.
No U.S. dates to support the album are scheduled yet, but keep your fingers crossed. Poor ticket sales moved the band's March gig from the spectacular Pearl Room to the less-so Capone's. My dreams of witnessing Tyr live were squashed by the room's sight lines, which are fine for a show with 50 people or so, but non-existent (especially for short shits like me) once a couple hundred heads are present.
Click here to download Tyr's "Hold The Heathen Hammer High."
How do three guys from New Jersey who dress like pirates and play thrash qualify as Pagan metal? No idea, but that didn't stop Paganfest 2 promoters from throwing Swashbuckle on the lineup. If only I had talked to Nemtheanga (Primordial was also on the tour) after a few dates to hear his opinion on this band.
Here's mine: Ridiculous. Running Wild is pirate metal. These guys are Municipal Waste with lyrics about peg-legs and rum instead of zombies and beer. Even more ridiculous than the album itself is the fact Nuclear Blast expects anybody to be impressed by the fact it was produced by Ron "Bumblefoot" Thal. Eh? He's Guns N' Roses' latest lead guitarist. He's not Slash, and he doesn't wear a KFC bucket on his head, but he often plays a guitar shaped like a hand.
The most ridiculous thing yet? I just dedicated 142 words to the merits of something called pirate metal. Avast!
OBEY YOUR MASTER: If you know who Paul Speckmann is, you probably know two things about him: 1) He and his band, Master, were around when death metal bloomed into a legit sub-genre, and 2) he rarely gets any credit for it. Maybe Master's new label, Pulverised, can help inform the uneducated. Speckmann (a native Chicagoan who now calls the Czech Republic home) and his bandmates recently signed a deal with the Singapore-based record company and plan to release a new album by year's end. Master's last studio effort, Slaves To Society, was released in 2007 via Twilight-Vertrieb.
The band plays Nite Cap in Chicago July 11th and returns to Illinois July 31st for the Central Illinois Metalfest at the Canopy Club in Urbana. Immolation, Goatwhore, Anal Cunt, Vital Remains, and Daath are also part of the two-day CIM lineup. Get all the details at www.myspace.com/centralillinoismet alfest.
— Trevor Fisher
Category: Caught In A Mosh, Columns, Monthly