FREE RADIO STILL RELEVANT – ESPECIALLY FOR MUSICIANS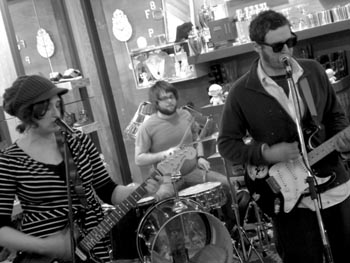 A few years ago, Massachusetts-based musician Candace Clement was in a band called Better Friends Than Lovers when she started taking a hard look at how the music industry works. "A pattern quickly emerged — one where very few companies seemed to control all content," says Clement, now a campaign coordinator for the media-reform group Free Press.
"Five major record labels ran the music industry; six corporations controlled nearly all of radio, television, and print. It didn't take long to realize that in the broadcast-media world, this didn't happen by accident. It was the direct result of public policies that were passed not in the interest of the people but for the profits of large corporations.
"These companies have been given a free license to broadcast on the public airwaves, but what are they giving back to us?"
She says it's nearly impossible for local bands to get airplay on commercial radio stations. "Commercial radio is dominated by payola schemes and limited genres, and with only a handful of companies controlling local radio it was nearly impossible to get your foot in the door.
"I'm not saying we were the next Nirvana or anything, but where could we even begin if we wanted to get local airplay? Commercial stations aren't happening, vibrant locales that you can stroll into and hand over your CD to an eager DJ. In many communities, DJs have been replaced by computers and you are lucky if anyone is at the station at all."
The place for musicians to promote their music, she says, is local, community-based radio — not the Internet. "There is a saying that the Internet is great at connecting people across the world, but not at people across the street. I would add that getting heard online doesn't do much to turn people out to a show on a Friday night. Local radio allows musicians and bands a way to connect with people in their own communities."
Clement is spearheading Free Press' efforts to pass the Local Community Radio Act Of 2009 (HR 1147/SR 592). The legislation would open the airwaves to more community-based Low Power FM (LPFM) radio stations that would broadcast at the local level to neighborhoods and small towns. It has nearly 50 co-sponsors in Congress (learn more at Freepress.net.lpfm).
She says musicians can lobby their lawmakers and spread the word at concerts. They "can also talk to other musicians and groups in their community about starting a station and working together to spread the word."
The Chicago Independent Radio Project has been working hard to get such a license for Chicago; visit Chicagoindependentradioproject.org for more.
SWINE FLU AT WGN: It seems that listeners are not happy with the changes at WGN-AM (720) — which include weekdays with John Williams in the morning and Garry Meier in the afternoon. But fans seem most upset about the station's new weekend programming. Out are "Sports Central: (which still airs weeknights 7 to 9 p.m.), "Your Money With Bill Moller," "The Technology Tailor" Alex Goldfayn, and Steve Dale's "Pet Central." They've also canned the long-running Saturday-morning movie reviews that launched Nick Digilio's career. Replacements include "Simon Rendezvous" with Paris-born ad exec Simon Badinter, 27-year-old www.thenews junkie.com founder Shawn Wasson, and former WLS jock Jerry Agar. Veteran news director Wes Bleed was also let go, and fill-in host and local comedian Dan Deibert left voluntarily, saying on his blog (www.dspotblog.com), "I just felt that my forward progress had stopped. I've been in radio situations before where you are just spinning the tires. I've also stayed in those situations too long. I learned my lessons and decided I wasn't going to let that happen to me again, because in the end, it never works out." Maybe there's a reason program director Kevin Metheny — who took over WGN last December — was christened Pig Virus by Howard Stern in his 1993 memoir, Private Parts (after all, it's just another term for Swine Flu).
ANOTHER NAIL IN JOURNALISM'S COFFIN: We winced when we learned that four of the city's five largest TV stations — WMAQ-Channel 5, WFLD-Channel 32, WGN-Channel 9, and WBBM-Channel 2 — are launching a joint news-gathering operation. Each station will provide two camera crews, who will be dispatched to cover news by a single managing editor in a position that will be rotated every 12 months. So now, instead of four managing editors making their own decisions, there will be a single person deciding what's newsworthy for most of the market. Kudos to WLS-Channel 7's Emily Barr for opting out in an effort to maintain the station's independent voice.
MAYOR COW? We never liked Mancow Muller much — until we heard he has been talking to experts ranging from fundraiser Jimmy John Liautaud to former Republican house speaker Dennis Hastert about running for Mayor of Chicago. "I already have enough money, so it wouldn't be a desperate attempt to cash grab like Blago," said the self-proclaimed Libertarian. "I truly believe this city is anti-human, costly, dangerous, and corrupt." He's right about that. Plus the campaign — and a win — would take him off the air for at least five years.
—Cara Jepsen