Jeff Beck: Performing This Week . . . Live At Ronnie Scott's
Eagle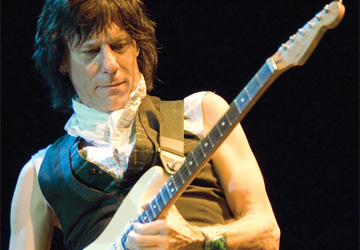 There may be no more daunting task in the music world than trying to figure out the enigma that is Jeff Beck. To quote Marlon Brando, he could have been a contender. As innovative as Hendrix, more rockin' than Clapton, and just head-and-shoulders better than Jimmy Page, Beck could have had it all. However, because of his cavalier attitude towards the biz, his sporadic recording and performance output over the years has kept him from achieving the status and noteriety of many of his peers.
After replacing Clapton in The Yardbirds in 1966, Beck moved on to form The Jeff Beck Group, featuring Rod Stewart on vocals, Ron Wood on bass, and Aynsley Dunbar on drums. With two seminal albums, Truth and Beck-Ola, under their belt, the group would go their separate ways, and Beck would spend his time doing session work or putting out brilliant instrumental discs every now and again. So it's always a treat when he decides to descend from the mountaintop and drop some knowledge.
Appearing at Eric Clapton's 2007 Crossroads fest must have lit a fire under him, because he's taken the same band and released Performing This Week . . . Live At Ronnie Scott's.
Serving as both primer and master-class, Performing Live runs the gamut of Beck's career. Starting off at the begining with "Beck's Bolero," the disc goes on to hit the high points with "Scatterbrain" and his exquisite reworking of "A Day In The Life."
But lest you think it's two hours of non-stop ax noodling, Beck pulls out some heavy-hitter guests to get on the mic, such as Joss Stone assuming Rod Stewart's duties on "People Get Ready," Imogene Heap tackling "Blanket," and of course Clapton running through "Little Brown Bird" and "You Need Love."
Even with the high-voltage guests, the real power is the backing band. Drummer Vinne Colaiuta, keyboardist Jason Rebello, and especially Aussie bass prodigy Tal Wilkenfeld mesh perfectly with Beck's flights of fancy, with Wilkenfeld completely taking over the signature "Cause We've Ended As Lovers."
The sound is impecable, and the special-features sections includes extensive interviews with Beck and company.
After watching Performing This Week, one can only hope the Beck's fire doesn't burn out again, and we won't have to wait another six years between offerings.
Performance: **** Features: ***
Miles Davis: That's What Happened, Live In Germany 1987
Eagle
Speaking of legends, has there been a more influential figure in the jazz world over the last few decades than Miles Davis? (Rhetorical question – no need to respond.) The list of accomplishments is too vast to recite, so a video chronicle is usually a welcome addition to the canon.
Unfortunately, That's What Happened ain't it.
Recorded in Munich, the set finds Davis in a particularly uninspired mood. Sure, he hits all the notes, but the fire isn't there. Perhaps it was age catching up to him, perhaps it was the German food, I don't know. None of the flash and innovation is on hand. Of course, it doesn't help when none of the Davis standards are on hand, and the choice of covers is downright head-scratching – Michael Jackson's "Human Nature" and Cyndi Lauper's "Time After Time?" Really?
Well . . . it was the mid-'80s.
What almost redeems the set is the half-hour interview with Davis in the features section. However, it's not nearly enough when there is so much more and better Miles material available. Skip it.
Performance: ** Features: **1/2
Also available . . . Ministry: Adios Puta Madres (Megaforce) chronicles the farewell tour of Al Jourgensen and his band of venerable industrialists. If you happened to catch the group on this tour, you know that the performances could be generously described as spotty. Adios distills the trip and presents it as a little more cohesive document. Along the way are tales from the road, with one disc featuring performances and the other containing in-depth interviews with all involved.
If this is, in fact, Ministry's last hurrah as Jourgensen has repeatedly stated, there are worse ways to go out.
— Tim Hiatt