The Last Vegas
Takin' A Ride On The Wild Side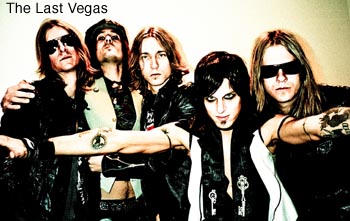 The wind is playing havoc on Nate Arling's mobile phone. Any Chicagoan knows what it's like talking to, or talking with, someone on a cell while they're outside on a blustery day — like a hair dryer blowing directly into the receiver. Arling isn't in his hometown, though, he's in Hamilton, Ontario, and the drummer's voice is crackling like he's taking a drive-thru order as he makes his way from the The Last Vegas' tour bus to Copps Coliseum.
Appearing: Tuesday, April 14th at Cobra Lounge in Chicago.
The shelter of the arena clears the static, but the solace doesn't last long before a barrage of banging, clanging, crashing, thrashing, thumping, and bumping starts.
"You can hear a little bit of Tommy Lee's drum check here," Arling yells with a laugh.
It's not a pompous, nervous, or braggadocous laugh. It's more a holy-shit-I can't-believe-I'm-watching-Tommy-fucking-Lee-soundcheck laugh.
The general public, as you can guess, can't watch Motley Crue soundcheck during its Saints Of Los Angeles tour. Opening bands, however, can, and that's what Arling and his Last Vegas bandmates (older brother/guitarist Adam Arling, bassist Danny Smash, guitarist Johnny Wator, and singer Chad Cherry) are doing when Illinois Entertainer catches up with him in March.
Huge crowds, big tour bus, and bigger arenas — a far cry from Vegas' hand-to-mouth days squatting (Arling uses the term only half seriously) in a West Loop loft and light years away from the band's earliest incarnation in Normal, Illinois.
"Two days ago, crossing [the Canadian border], just to sum up what our lives have been like recently: We wake up at like 7 in the morning," Arling says. "So you go into this schoolroom-lookin', whole DMV kinda lookin' room. So we walk in, and Mick [Mars]'s in there, Nikki [Sixx]'s in there with [tattoo artist and girlfriend] Kat Von D. So we all just hang out, shootin' the shit. So we sit in there for about an hour with those guys and finally get across the border. We get into Canada and have a day off and go to a strip club. Vince [Neil] is hangin' out so we go and Vince is drinkin' champagne and hang out with Vince, and it's like 'God, this is a day of my life right now.'"
Arling isn't feigning excitement, either. His band plays rock 'n' roll that's stacked with sleaze, soaked in sweat, and smothered in leather. Sound familiar? The Chicagoans aren't happy just because they'll play Madison Square Garden; they're happy because they'll play Madison Square Garden with the Crue, without whom The Last Vegas likely wouldn't exist. Seriously.
Nowadays, '80s-ish hard rock has come back. Unfortunately, it's often in an ironic, tongue-in-cheek, hipster-asshole sorta way. Five years ago, though, when Tommy Lee was rapping, Vince Neil's best gig was reality TV, Nikki Sixx was playing with Tracii Guns, and Mick Mars was presumed dead, being "like Motley Crue" wasn't cool. Unless you were The Last Vegas. Then it was a compliment, Arling says.
"We've always, all of us have always been huge Motley Crue fans," he emphasizes. "They're our favorite band, and it's kind of funny because every night we watch their show. Like, every single night. We don't miss a single one. It's icing on the cake. Like, 'Hey, you can go on tour with these guys, but you can also see them 40 times.' We're front row for every show."
The Last Vegas will still see plenty of Motley Crue after the tour wraps. Late last year the band won Guitar Center's On-Stage contest, a nationwide battle of the bands that began in August with 8,000 contestants and ended November 10th with six finalists playing in front of (and being judged by) Sixx, Neil, Mars, and Lee at the iconic Whiskey A Go-Go in Hollywood.
"That was playing for Motley Crue," Arling reiterates. "Even that was just like, for these guys to see us play is going to be a mind-blowing experience alone.
"That show was interesting [because] we were the first band out of six, but we were like, 'You know what? Let's just go out there and kick some fucking ass. Nothing to lose. Have fun, just do exactly what we always do.'"
Nothing to lose, but plenty to win. The Last Vegas left the Whiskey that night with a slot on Motley's tour, a deal with its label (Eleven Seven), a contract with its management company (Tenth Street Entertainment), $25,000 cash (ironically, almost the exact amount of debt the band had incurred during its career), and $20,000 worth of Gibson gear.
Within a few days of On-Stage, The Last Vegas, with producers Sixx, DJ Ashba, and Marti Frederiksen, cut "I'm Bad," the first single from Whatever Gets You Off. The Eleven Seven debut comes out April 14th and is halved between brand new songs — recorded earlier this year, before the SOLA tour began — and remixed tunes from the band's 2008 self-titled full-length.
"The record comes out, then they're pitching us for other tours and stuff," Arling says, looking ahead. "We're just going to hit the road for a long time. Kinda doing what we've always done, but just on a larger scale now, with more organization and backing and stuff."
For a self-financed, self-operated, hard-working group like The Last Vegas, a break like this is, to say the least, nice. But, Arling admits, it's even nicer when it comes from your heroes.
"We played, probably, 400 shows, just going for something," he says. "And all the sudden, not only to get a good opportunity, but from one of our favorite bands of all time — go on tour with them, sign to their label, sign to their management company — it was just like boom, an explosion. Pretty much, it was like winning the rock 'n' roll lottery.
"I've kind of been saying for years," he continues, "that bands, whether it's The Rolling Stones or Motley Crue, it would be cool if they kind of give back to younger bands and give them a break. It's something more bands should kinda do. They've been selling music going on for a long time; it's going to help them and show that they aren't just dudes sitting around counting their money. They want to help young bands, and that's truly what they're doing.
"And that's cool." Arling pauses. Tommy Lee's manic drumming bounces around the arena — the very arena Arling and his bandmates will play in just a few hours.
He laughs at the thought — the same, modest, holy-shit-I can't-believe-I'm-watching-Tommy-fucking-Lee-soundcheck laugh.
"Especially for us."
— Trevor Fisher