Telepathe
Metro, Chicago
Saturday, April 4, 2009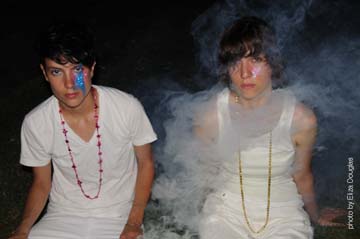 Less-visible bands play Russian roulette by inviting guests onto their albums, running the risk of having such an appearance inadvertently define their sound. As such, it would already be difficult to address Telepathe without mentioning TV On The Radio. But the latter's influence, via Dave Sitek and Kyp Malone, nearly dominates this month's Dance Mother (Iamsound).
Distinguished, modern bands are few and far, so the presence of such a dynamic one is bound to threaten any budding fruit. Pulsating, flashing, droning: Dance Mother is an apocalyptic Adibempe sermon away from a Biblican tragedy. Something strange happens on "In Your Line," "Can't Stand It," and "Michael," however: their sonic buzzsaw demands you bow and slobber your belief. Sitek has produced the whole thing, but Telepathe are ahead of him on these tracks, and it's not as if you can easily camo your TVOTR influences, can you? In or out of Sitek's hands, Telepathe jostle and throw elbows, putting themselves in front of you. Strip the dressings and you'll find what had occupied you was no more than aesthetic, a mere skin to cover a fledgling heartbeat. Of course, its mother might be The Knife, but that's another matter . . .
— Steve Forstneger
Click here to download "Lights Go Down."
Category: Stage Buzz, Weekly