Efterklang
Schubas, Chicago
Saturday, April 4, 2009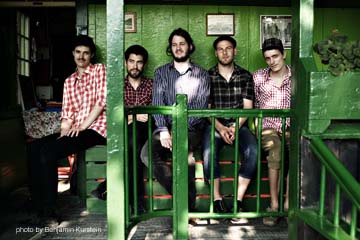 Danish folktronica act Efterklang are no longer a folktronica act, which will surely annoy people who warmed to the moody glitch pop on 2004's Tripper (Leaf). If those same people don't care for happiness, either: Watch out.
Though a Sigur Rós-y arc can still be drawn from Tripper to the band's most recent effort, Parades, it'd be a mistake to not take the album title at face value. It is as it sounds: a nearly endless, Sufjan Stevens' Illinois-styled sidewalk gathering. Efterklang wait for everyone to pass — the shriners, Jessie White Tumblers, 27th-District state-congress candidates, eight municipal fire departments, and the poor souls charged with shoveling horse poop — and give them all a standing ovation. More than 30 extra musicians were hired to back the core quartet and, while only four join them on tour, surely it was required that each was a morning person.
Zelienople and Peter Broderick open.
— Steve Forstneger
Click here to download "Cutting Ice To Snow."
Category: Stage Buzz, Weekly