Dana Falconberry
Una Mae's Freak Boutique, Chicago
Tuesday, April 7, 2009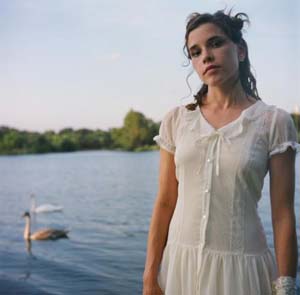 Times are tough, man. It's hard enough scrounging enough coin to buy some new clothes, let alone go to clubs for concerts. Singer-songwriter Dana Falconberry is giving you an alternative to both.
Falconberry is playing Chicago on her current tour but more than likely no place you've ever been before . . . unless you're a thrifter. In support of last summer's Oh Skies Of Grey , the Texan (who used to call Michigan home) is playing vintage-clothing stores. Fitting, as her slightly bluesy, equal-parts-naughty-and-nice voice is a throwback of sorts. It isn't hard at all to close your eyes and imagine "Satin Dress," "Do You," and "Baby Blue Sky" being performed in 1930 at a smoky speakeasy.
Falconberry's Chicago show will be a little taste of prohibition, too, as it's doubtful Una Mae's Freak Boutique (1528 N. Milwaukee) will have the kegs tapped, but $5 gets you in, and you can use the money saved on booze to buy that sweet "Fraggle Rock" T-shirt.
— Trevor Fisher
">Click here to watch the music video for "Baby Blue Sky."
Category: Stage Buzz, Weekly