Superdrag
Metro, Chicago
Saturday, April 25, 2009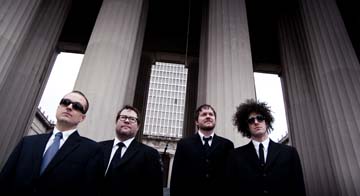 2009 seems to be the year of getting the band back together – coughing up reunions the world would mostly go on living without. But the reconvening of Superdrag has created excitement and stirred up some '90s nostalgia for fans of a certain age who are still in rocking shape and unmoved by the sniveling emo or dime-a-dozen ersatz new wave bands that have filled in the spaces since. If the band wasn't a household name, then certainly those who listened to alternative-rock radio or watched MTV would recall the impassioned, acrimonious battle cry, "Who sucked out the feelin'?" from "Sucked Out," the modest hit from their Elektra debut, Regretfully Yours.
 
The answer to the question, "What happened to them?" is the all-too-familiar story: this band, that loved making music, was wooed by a major label, butted heads with the major over creative control, which caused fracture within, a return to the indie-label world, then ultimately toward demise. Frontman John Davis also had his own personal battle going on: alcohol met Jesus and apparently Jesus won. Davis went on and released two solo records that reflected his new religious outlook, while the other band members pursued different interests.
 
Davis always knew they'd do it again, however, and it was he who gathered guitarist Brandon Fisher, bassist Tom Pappas, and drummer Don Coffey, Jr. back together after 10 years to record the new LP, Industry Giants (surely a facetious hint at the band's fugacious history), in a mere 10 days spread over nine months. It's as if time stopped around 1998; Superdrag just took a deep one and is now exhaling.
Van Ghost and Nicholas Tremulis Orchestra open.
 
— Penelope Biver
Category: Stage Buzz, Weekly