Cameron McGill & What Army
Schubas, Chicago
Wednesday, April 29, 2009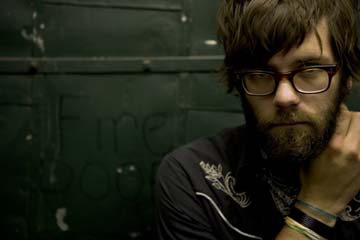 We used to tease a former intern over her attention to Cameron McGill. At the time, the city was loaded with pretty-boy singer/songwriters, and she had simply found the latest. Now we're at the back of the line.
Parasol Records, from downstate Urbana, claims Warm Songs For Cold Shoulders is the record it hoped McGill & What Army would make on their label debut. What they got is something you might freely associate with Conor Oberst and Saddle Creek, but only in the most complimentary of fashions. The singer/songwriter's job is to affect without sounding affecting, and McGill somehow manages to ghost through Warm Songs. His duets with The Transatlantics' Kathleen Bracken properly put his partner in the spotlight, while What Army stir up the sort of Midwestern twang that has kept Chicago on cordial terms with its downstate nemeses.
— Steve Forstneger
Click here to download "Low Ways."
Category: Stage Buzz, Weekly