Death Cab For Cutie
WTTW Soundstage, Chicago
Thursday, April 16, 2009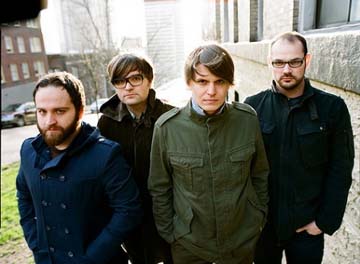 Given where Death Cab have landed in their career, their appearance on a program like WTTW's "Soundstage" seems fitting. The established-artist showcase syncs up with the group's continual march from former indie darlings to mature, adult-alternative act, as evidenced on 2005's Plans as well as last year's Narrow Stairs. Thus, it only made sense that the outfit would focus entirely on their recent and more musically ambitious and realized material, while steering clear of simpler and more-innocent earlier indie fare.
Taking the stage before a well-dressed and even better-behaved studio audience, the Bellingham, Washington act performed against five screens of abstract video footage, set between maroon curtains. The group moved freely through their most recent offerings, even dipping into the recently released The Open Door EP (Atlantic), though never venturing further back than 2003's Transatlanticism. Instead, Death Cab presented fully realized versions of their more serious, heady material. Occasionally, frontman Ben Gibbard offered awkward banter between songs, proving the frontman a better vocalist than conversationalist.
Fortunately, such moments were few and far between. The majority of the time Gibbard opened his mouth, it worked in his favor. The newer "My Mirror Speaks" proved one of the more melodic Death Cab selections in recent memory, with undeniable verses effortlessly providing the heavy lifting. Elsewhere, Gibbard turned "The Sound Of Settling" into more of a straightforward rock venture than its recorded pop counterpart, as drummer Jason McGeer populated the song with a single repeating and clashing cymbal. And Narrow Stairs highlight "Your Heart Is An Empty Room" proved infectiously uptempo, even dipping into a low hush midway through before quickly rising back to full instrumentation.
Often, selections displayed noticeable enhancement from their album incarnations. "The New Year" came off especially charged, simultaneously emphasizing the studio's sweeping, pristine sound. Later, bassist Nick Harmer delivered additional muscle to the typically understated "Summer Skin." And the upbeat and excited "Long Division" showcased incendiary guitar interplay between Gibbard and guitarist Chris Walla, building up to a frenzied, cacophonous bridge.
As Death Cab's predilection for experimental jamming has become increasingly apparent over the years, it seemed a given that the group would venture into more extended territory. Throughout its ever-expanding instrumental intro, Harmer took a reverb-soaked version of "I Will Possess Your Heart" for a bass-led walk down a long and winding pier. And spacious closer "Transatlanticism" grew from the song's familiar and echoing backing track, whirring out of speakers above the stage. With the room's lights dimming to match the selection's mood, the group moved into an extended jam, as the song unspooled its epic sprawl. What began as a tender offering, featuring Gibbard visiting keys for a portion of the track, soon built to an overpowering showing, with McGeer banging away while the song amassed surprising volume and speed. Yet almost as quickly as the track reached a passionate plateau, the outfit caught themselves and allowed the ambitious venture, not to mention their set, to fade out, humming. And while the evening's ending may have felt abrupt, the group knew enough to make what time they had count, delivering a set full of layered and accomplished offerings. After all, they are professionals now.
— Jaime de'Medici
The Death Cab For Cutie episode of "Soundstage" airs Thursday, July 9th at 9 p.m. on WTTW-11 Chicago.
Category: Live Reviews, Weekly