Pagan Knights Tour
Pearl Room, Mokena
Friday, March 20, 2009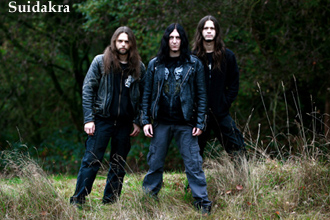 This whole Pagan metal/Viking metal/folk metal thing is becoming awfully confusing, and you need look no further than the Pagan Knights tour for proof.
Most of those involved in so-called "pagan metal," will tell you it's labeled such for its historical and mythological pre-Christian angle. A sub-genre named after a shared ideology is uncommon in heavy metal, where nearly everything else is categorized by its sound (power metal, thrash, prog, nu, etc.). Even styles like black metal, which were forged in part by a reaction to religion, has numerous countless acts unconcerned with the "dangers of Christianity." Yet, nobody has figured out what to do with bands like Suidakra and its Pagan Knights tourmates. The German group – around since the mid '90s – isn't outwardly Pagan lyrically, at least judging by Crógacht, released earlier this month by Wacken. It is, however, very folk-influenced, as the core trio of Arkadius, Lars, and Marcus employs guest musicians armed with bagpipes and tin whistles. Celtic folk, actually, which is sometimes a genre in itself. Tyr (read "Caught In A Mosh" for an interview with the band) is definitely Pagan, definitely folk (music is often traditional Faroese), and definitely Viking (named after a Norse God). Be careful tagging Tyr Viking metal, though. That's presuming it sounds something like Bathory or Amon Amarth . . . and it doesn't. Nothing like either, actually. Ironically, both bands are much closer in style to Suidakra's aggressive death metal. Confused? How about the fact Alestorm is none of the above? The Scottish band describes itself as "pirate metal." We'd complain, if the thought — and sound — of Scottish pirate metal wasn't so awesome.
— Trevor Fisher
Click here to download Alestorm's "Wolves Of The Sea."
Category: Stage Buzz, Weekly