Kid You'll Move Mountains
Empty Bottle, Chicago
Friday, March 20, 2009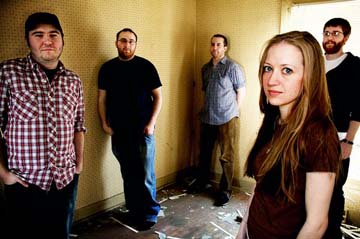 Once we figured out where the pieces of suburban Troubled Hubble landed, it was natural for us to locate frontman Chris Otepka first, whose Heligoats dropped a debut on Greyday last year.
We suppose we could have followed the rhythm section around, but what fun is that? Did anyone venture toward Foo Fighters because Nate Mendel and Will Goldsmith were in Sunny Day Real Estate? O.K., bad example. Thankfully, Kid You'll Move Mountains reached out to us, because now we know why Heligoats feels so uprooted.
Nate (drums) and Andrew Lanthum (bass) are as central to KYMM as they were (in hindsight) to Troubled Hubble. And hopefully frontman Jim Hanke thanks them every day, because his eclectic indie pop scores need their anchor. Loomings, last year's proper debut (following a radio recording), looks to touchstones like Built To Spill, Death Cab For Cutie, and Dismemberment Plan. Guitars chime in some spots ("Volts") and percolate with squealing harmonics in others ("No Applause"), while the boy/girl vocal interplay further contemporizes them among Headlights and Mates Of State. It's when the whole band are in tune with each other, like opener "Inside Voice," that KYMM's potential comes clear.
Jonny Rumble headline; Bailiff and Pretty Good Dance Moves also play.
— Steve Forstneger
Category: Stage Buzz, Weekly