Glasvegas
Ain't That A Kick In The Head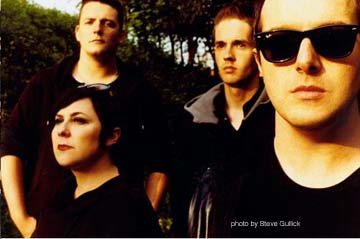 In Britain, the running joke is young lads have roughly two ways out of their bleak, dead-end towns: form a rock band or become a "footballer," a professional soccer star. "And I'm probably the first person of all time to do both!" brags scrappy Scot James Allan. Allan had an eight-year midfield career for teams like Falkirk, Cowdenbeath, and East Fife before retiring his jersey for a new uniform – the all-ebony outfit he currently wears onstage with Glasvegas, a bagpipe-grand group he formed out of sports frustration in '06. "In some ways, it's quite peculiar," he says of the sudden switch. "But in a lot of ways, it makes perfect sense, because they have a lot of connections, y'know – rock 'n' roll and football."
Appearing: Monday, April 6th at Bottom Lounge in Chicago.
Allan, 29, swears the bulk of his most memorable matches occurred in early childhood, just kicking the ball around with pals. "And it doesn't really get any better than that, because you're still naïve, wide-eyed, and innocent, and everything you do is through instinct," he explains. "It's only later that they try and mold you into a robot." He can only recall one great pro game – the night he signed his first club contract at 16. "We won four-nil, and I scored two goals, and that was my peak – after that it was all downhill, and no longer about using your instincts and imagination. In Scotland, there's just a barbaric mentality from a lot of coaches, so I think at some point the passion went, and I fell in love with the idea of making music and being in a band."
Soccer's loss is rock's gain. Glasvegas, the quartet's just-issued Columbia debut, is truly one of the most memorable recent Efforts, rife with chiming Big-Country-meets-Bunnymen guitars and Allan's dark, burr-bristled poetry in anthemic tales of prison ("Polmont On My Mind"), social workers ("Geraldine"), even murder ("Stabbed," "Flowers And Football Tops"). His accent is often so thick you need a lyric sheet for translation (hint: "Forgeh yer da hiss gawn" equals "Forget your dad, he's gone"), but this glowering Glaswegian is already an Oasis-promising presence overseas. It follows that U.K. tastemaking-magazine NME would also dub Glasvegas the Best New Band In Britain.
How did Allan make such a creative quantum leap? First, let him sketch a dreary sports-obsessed Scottish backdrop. Glasgow breaks down into two major football clubs, he explains – Celtic and Rangers. "And Celtic's Catholic, the Rangers are Protestant, so that's the way it all heats up. It's quite Gothic, really, quite aggressive and medieval – sometimes you really could be in the Dark Ages when Celtic's playing the Rangers, because everything that happens around town suddenly turns quite caveman."
And soccer violence doesn't necessarily revolve around winning or losing, Allan adds. "It's not even as clever as that – people live a life full of frustration, and whether they win, lose, or draw, they're gonna still find a way to be aggressive. And maybe that's the way they've been brought up or taught, but then they pass it down to the next generation. That's been happening in Glasgow for generations, because the options there are kind of limited. And football is one of the main ways men can express themselves – by going gambling, going to football matches, or just going to the pub."
Allan's future in sports started looking just as bleak. The final straw fell one dismal, rainy night outside King Tut's Wah Wah Hut in town, where he'd booked one of his first-ever Glasvegas gigs. His team manager had essentially cut him, told him to beat it even though his contract was still good for several more months. "It was a very strange day," sighs Allan. "He said, 'If you come back, I'm gonna make you train the 13- and 14-year-olds.' He needed me to go, so it would free up a place and he could buy a new player. So that's when I thought, 'Fuck it – I'm gonna go.' So I walked down the stairs that night, went onstage, and after the gig Alan McGee came up to meet us." The legendary Creation Records honcho was so smitten with the quartet, he immediately booked them for his Death Disco club/program, almost singlehandedly launching Glasvegas to stardom.
—Tom Lanham
To read how Allan turned around, grab the March issue of Illinois Entertainer, free throughout Chicagoland.