The Bakerton Group
Double Door, Chicago
Wednesday, February 18, 2009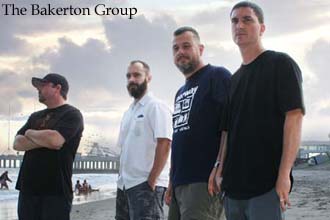 Haven't heard of The Bakerton Group? Perhaps you're familiar with Clutch? If so, you also know Bakerton, because it is, literally, Clutch with a different name and an additional member.
The press release for El Rojo (February 17th; Weathermaker), Bakerton Group's first full-fledged, widespread release and third overall, calls the band "the psychedelic instrumental jazz-laden alter ego" of Clutch. Publicists have a tendency to over do it (it's their jobs, after all), but the aforementioned quoted segment is a pretty spot-on description of Tim Sult, Dan Maines, Jean-Paul Gaster, and Neil Fallon's "other" band, which, in the studio and occasionally live, also includes Opeth keyboardist Per Wiberg. To simplify things even further, though, you could just call Bakerton Group "Clutch live without Neil Fallon singing." Clutch has gone through a lot of transformations – hardcore, alt-metal, stoner rock – in its career, and hard rock jam band is just the most recent. It's an element of the Maryland outfit's personality that has always been around, but become more defining with each record since 2004's Blast Tyrant – Bakerton (which Fallon, Sult, Maines, and Gaster have dabbled with since the beginning of the decade) is more or less the full realization. If you've seen Clutch live and prefer the more straightforward album version of the group (not to mention Fallon's clever lyricism, which isn't part of Bakerton), El Rojo could be a lot to stomach. On the other hand, if you dig Clutch's adventurous, off-the-cuff, stretch-a-half-hour-set-into-135-minutes, bon appetit.
Reverend Peyton's Big Damn Band and Red Fang open.
— Trevor Fisher
Click here to download The Bakerton Group's "Old Bait And Switch," from its Space Guitars EP.
Category: Stage Buzz, Weekly