Frank Sinatra
Seduction: Sinatra Sings Of Love/From The Heart
(Reprise/Legacy)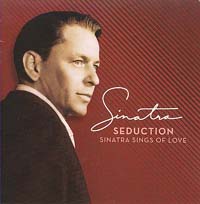 Whaddya know? Frank Sinatra sang some love songs. Just in time for Valentine's Day, competing factions of his catalog have compilations ready.
Legacy (hey Capitol, where you at?) – through in-house partnerships with Columbia, RCA, Arista, and Epic – have also raided their vaults with From The Heart collections for Miles Davis, Etta "Break My Foot Off In Beyoncé's Ass" James, Billie Holiday, Aretha Franklin, Air Supply, Babyface, The Isley Brothers, and Dolly Parton, so you could assume the Sinatra disc is a result of happenstance as anything else. It's actually less: Sony released the same disc as Beautiful Ballads And Love Songs last year. The Columbia section of Frank's career follows closely, meaning directly, on the heels of his tutelage under Tommy Dorsey, and accordingly falls a little shy of the blue-eyed love songs advertisers have beaten us to death with. Yes, the older, big band songs are seemingly fresher (provided you don't already own a Sinatra "love" collection, which is improbable).
(For the record, each of the discs in Legacy's "From The Heart" series is a repackaged set of another name.)
Reprise's collection bears the Sinatra family estate logo (that signature fedora, which, ironically, Frank isn't wearing on the cover), so we're to assume greater care has gone into the affair. Whatever, right? The 14th is the Hallmarkiest of Hallmark holidays, and the only time he wasn't singing about love was when he rang about how aging sucks – which was ostensibly about love anyway. But credit the conspirators with providing some range. The Reprise years were Sinatra's richest, and the Quincy Jones-produced "More" proves it. "Teach Me Tonight" has a little step in its bleary-eyed flirtation, and goddamn if he doesn't sing opener "Prisoner Of Love" like he could turn James Bond/Daniel Craig from straight to gay with a tip of his hat. Granted, some of these tracks have been overplayed to the point of inanity ("I've Got You Under My Skin," "All The Way," "It Had To Be You," etc., etc.), but at least Reprise is making a teensy effort.
— Steve Forstneger