Miles Davis
Kind Of Blue: 50th Anniversary Deluxe Set
(Columbia/Legacy)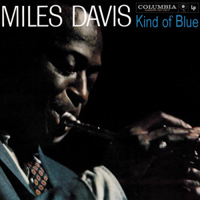 It's not difficult to understand why Legacy is re-releasing Kind Of Blue for its golden anniversary, though, knowing this occasion was imminent, it could have held off on the ones that preceded it. In fact, the label jumped the gun on the birthday last September, when this music also came with a DVD.
The album remains impervious to hyperbole. In the liner notes' intro sentence, it's the first album to improvise on modal chords. Too didactic? It made bebop sound like masturbation. It's the point to which jazz was heading in 1959 and from which all jazz left. Even the title is loaded with meanings so obvious yet so resonant. "So What"'s melody is recognizable to people who can't even name it (more so than "Take Five" or "Blue Train" or "Brilliant Corners"), yet said melody is only a fraction of the "song."
The 50th-anniversary edition might have been better, however, had Legacy just reduced it to the original set. For half its lifetime in the CD age, Kind Of Blue has been augmented. By extending the original album threefold via more and more outtakes, Columbia has diluted it. The second disc includes recordings from this sextet's 1958 sessions, all of which has been made available elsewhere, and tacks a 1960 performance of "So What" in case you forgot about it, which, at this point, maybe you have. An extra-deluxe version features the album on 180-gram vinyl, a DVD, and a 12-by-12-inch booklet.
8
— Steve Forstneger