The 2009 Grammy Awards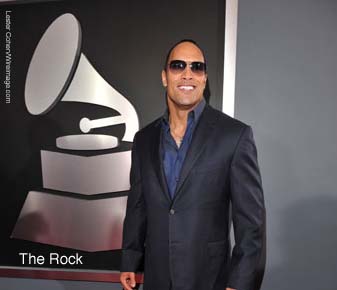 In an unprecedented scene (especially because he hadn't been nominated for anything), The Rock took home four Grammys.
Actually, the biggest question tonight — aside from "Why are so many actors presenting awards?" — was what happens if Coldplay wins "Song Of The Year" for "Viva La Vida" and Joe Satriani eventually emerges victorious his copyright suit against them? Would Satch get the prize? All bets were off after a prancing Chris Martin and Coldplay won best rock album (over Metallica and Kid Rock), though the controversial scenario was nearly hijacked when Robert Plant & Alison Krauss (and T Bone) won Record Of The Year (to the performers). The Grammy folks are courting controversy, however, because Coldplay took home the songwriting trophy for "Vida."
Other oddities: In an effort to cast the "Swagga Like Us" crew as a new-fangled Rat Pack, CBS aired Jay-Z, Kanye West, a very pregnant M.I.A., Lil Wayne, and T.I. in an unflattering black and white. The Jonas Brothers' cover of "Superstition" with Stevie Wonder threatens to do to that song what "I'll Be Missing You" did for The Police and "Every Breath You Take." Radiohead appear threatened by The Arcade Fire, if the phalanx of musicians on stage (the USC marching band) was any evidence. Country music, despite its overwhelming popularity, remains the Grammys' red-headed stepchild. And poor, poor Blink 182. Reunited for the first time after Travis Barker's accident, the band announced their official re-togetherness to a consensus "meh" response.
The evening's annual highlight is the speech delivered by National Academy Of Recording Arts & Sciences (NARAS) president Neil Portnow (who bears an uncanny resemblance to former IE Editor Michael C. Harris), during which it was so hard to hear the man because of the piercing cries from the mostly female, teenage audience. Despite spending time unravelling the intrigue behind President Barack Obama's two books-on-tape Grammys, Portnow then expounded upon Los Angeles' new Grammy museum, which surely includes a fine exhibit on Milli Vanilli. He also didn't explain why Rihanna and Chris Brown cancelled their appearances last-minute, though some suspect it had something to do with an early morning domestic battery.
Otherwise, despite a broadened nominees list, the Grammy voters still took zero chances, and the winners (John Mayer released an album last year?) fell directly in the middle of the road. Kudos to them for honoring Robert Plant & Alison Krauss amid the dreck, but we'll have to wait until the leftfield and Internet champions hold more sway over the ceremony.
— Steve Forstneger
Category: Asides