In This Moment
Pearl Room, Mokena
Sunday, February 15, 2009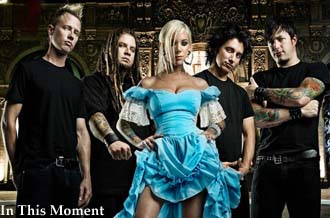 If it weren't for Maria Brink, In This Moment's 2007 album, Beautiful Tragedy, would have been totally ignorable. Brink's performance (she's one of the few females in heavy music able to convincingly pull off "extreme" vocal techniques) single-handedly made an otherwise bland mall-metal record worth at least one listen.
Therefore, the fact Brink strictly sings on nearly – "Empires Fall And Rise Again" being the exception – all of The Dream (Century Media) tells you everything you need to know about In This Moment nowadays. It seemed like Brink, guitarists Chris Howorth and Blake Bunzel, bassist Jesse Landry, and drummer Jeff Fabb could go nowhere but up after Beautiful Tragedy, but The Dream blows that theory out of the water. The album is a brazen grab at mainstream acceptance, and that would be fine if it weren't also such a lame grab at mainstream acceptance. You can't rag on a group for eyeballing the brass ring, but selling out doesn't have to equal boring songs, and that's what The Dream comprises. Brink's voice is fine but hardly noteworthy, and Howorth and Bunzel can't come up with a decent metal riff (or "hard rock," as the band now calls itself) in 11 tracks. Ironically, In This Moment became more forgettable while trying to be catchy. The album title and theme supposedly have some ties to Alice's Adventures In Wonderland, though judging by its artwork, it's an excuse to squeeze Brink into a baby-doll dress. As if the band and Century Media didn't exploit that angle enough on the classy "Maidens Of Metal" 2009 calendar
In This Moment, along with Nonpoint, open for Mudvayne. If you show your Mudvayne ticket next door at The Colosseum you get free admission to the matinee, 1:00 p.m. Wednesday 13 show.
— Trevor Fisher
Category: Stage Buzz, Weekly