D. Rider
Hideout, Chicago
Friday, February 13, 2009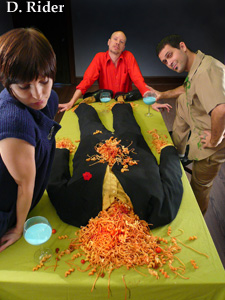 D. Rider isn't M. Yellow, but former U.S. Maple backbone Todd Rittmann has toned down the approach for his solo album, Mother Of Curses, which releases this coming Tuesday on Tizona Records.
Working with members of Mucca Pazza and Cheer-Accident won't lead anyone to believe you wish for anything but to fuck shit up. Unfamiliar to Maple fans (maybe not to those of Rittmann's work in Singer) though, is the presence of rules. The rhythmic boundaries are established in the title of "Arranged Marriage To No Toms" (thankfully not in "Dear Blocks" or, worse, "Misery Whip"), and recording was limited to the boundaries of a four-track recorder. "Limits, schlimits," Rittmann moans. Mother Of Curses runs riot with tape manipulation, which makes "Dew Claw Don't Claw" cram Berlin-era and Reznor-fetish Bowie into the same box, and they don't make nice. "Welcome Out" marries the sagging acoustic tuning of a hunk of Red Red Meat with a test-pattern brass section, though it's the muscular thump of the exiting "Misery Whip" that shows Rittmann at his best, writhing on the floor and covered in glass.
Cheer-Accident headline this release party for their Fear Draws Misfortune; Jessica Fogel opens.
— Steve Forstneger
Click here to download "Touchy."
Category: Stage Buzz, Weekly