Antony & The Johnsons
Vic Theatre, Chicago
Thursday, February 12, 2009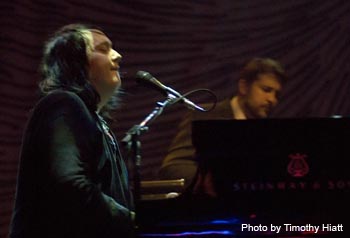 Antony Hegarty learned quickly that levity is a key ingredient to making his concerts enjoyable. While his operatic quiver has the power to decimate an audience — but, hanging on his vibrato, the weight of his compositions is liable to suffocate. He creates an atmosphere where mention of "anal warts" isn't unwelcome in the least.
On this winter's The Crying Light (Secretly Canadian), Hegarty once again goes searching for reasons beneath a heavily baroque exterior. Though his homosexuality is a key element for his growing fanbase, it's merely a stepping-off point lyricwise. "Epilepsy Is Dancing" picks up after 2004's astounding I Am A Bird Now, claiming to be "finding my rhythm" while giving off a sensation that sounds like he's drowning psychologically. It's heavy, dragging fare influenced by the legacy one of his best-known songs: "Hope there's someone/Who'll take care of me/When I die."
Knowing full well a third-successive downer LP is tantamount to browbeating – if depressives were known for such a thing – Hegarty unshrouded after his first three Vic offerings and treated his audience to a randy sideshow. It would be unfair to those who haven't yet seen the show to uncover the jokes, but it gave the evening a slight vaudevillian flair, already augmented by a sextet of versatile guitarists/violinists/percussionists and whatever other -ist was needed.
Hegarty was even comfortable enough to let attention wander from his pipes to his band, whose twittering violins stole "Kiss My Name" and turned "Shake That Devil" around to soul revue. A Cat Power-esque cover of Beyoncé's "Crazy In Love" may have snagged on his mournful air (entering in the middle and flirting around the hook), but it proved to be a tour-de-force where his wail not only lent the song gravitas, but pulled some out where before you wouldn't think there was any to begin with.
Ultimately a trio from Bird ("Fistful Of Love," "You Are My Sister," "Hope There's Someone") would land in a familiar setting, but Hegarty is already miles beyond where he was at Schubas only three years ago. In fact, he has unexpectedly raised expectations for his suddenly successful self.
— Steve Forstneger
Category: Live Reviews, Weekly