Anni Rossi
Empty Bottle, Chicago
Friday, February 20, 2009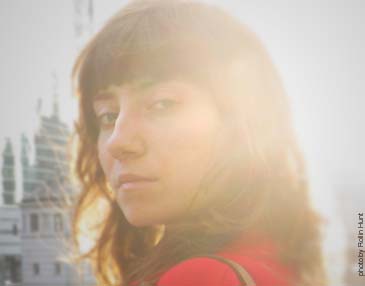 You have to wonder if her label, the venerable 4AD, knew Anni Rossi would be buried under Joanna Newsom comparisons. It's hard to ignore the familiarities, despite some rather fundamental dissimilarities.
First is Chicago/Los Angeles dual-citizen Rossi's grungy "Las Vegas," which is anachronistic enough to be laughable, but has the last chuckle because the predicted guitar avalanche never happens. Otherwise, what's the difference between Newsom and Rossi? The latter uses a viola, not a harp, and has a huskier – speaking relatively, of course – voice. Despite her unusual instrument and the reputation of the label behind her, Rossi plays it disappointingly safe on her Afton EP and Rockwell full-length. We agree, as she sings on "The West Coast," "I'm not really feeling [these] songs too much." "Living In Danger" and "Wheelpusher" skip by with plucky charm, but if she's not careful the likes of Meiko and Lenka are going to run right past her.
Rossi opens for Deer Tick and Future Clouds & Radar. She also appears February 24th at the Museum Of Contemporary Art and March 1st at Schubas.
— Steve Forstneger
Click here to download "Ecology."
Category: Stage Buzz, Weekly