Tomorrow Never Knows Festival
Schubas, Chicago
January 14 – 18, 2009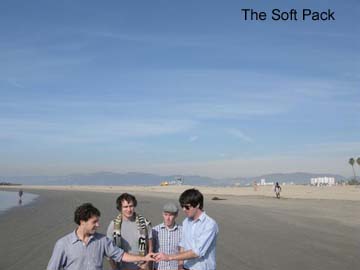 I miss my friend Josh. Not so much his company, but his friends. Greeting each new year — following all the holiday parties — with a "January Sucks" party, they'd rent a bar, arrange one of those all-you-can-drink wristbands, and get everyone knackered. Schubas' annual "Tomorrow Never Knows" concert series has come to fill that void . . . if only we could get it to free up the taps.
Five years ago, "TNK" seemed like Schubas was simply wrapping a string around a fortuitous run of shows and calling it a festival. Last year (featuring John Vanderslice, Bobby Conn, White Williams, Cloud Cult, and The Walkmen) showed us they were serious, and this year is no different, if a little less colossal with the headliners.
Friday, with Cursive and Miles Benjamin Anthony Robinson, has already sold out, recalls the big-bill halycon days. But "TNK 2K9" locks step with the festival title's spirit, that of looking to the future. (Some people, crystal balls in hand, have already seen fit to snap up all the tickets for the 15th, starring Department Of Eagles and the exotic local cocktail called Allá.)
Wednesday names The Soft Pack to headline. The San Diego quartet went by The Muslims until recently and, perhaps due to being picked up by the same management firm that has Radiohead, have already met a head-spinning backlash. Stomped on the Brooklyn Vegan message board as "a flash in the pan — this year's next year's Black Kids. They'll play a ton of shows at SXSW and be the press darlings," their urbane, Nu Yawk-ish VU/Strokes-isms have been predictibly lauded by NME, though with good reason. Buried under layers of style is a stack of tantalizingly catchy songs. The Republic Tigers, Bear Hands, and Lost In The Trees open.
"TNK" reverses wiseguy code (Friday girlfriends, Saturday wives) by holding the sweaty dance party on the 17th, but whatever. Hey Champ and Pretty Good Dance Moves (mirroring Cut Copy and Stars, respectively) keep things tethered to the rock-band aesthetics, though Thunderheist and Bald Eagle are the sort to come out from behind their decks, chug your beer, and kiss it back into your mouth. The Sunday lineup then sends everyone home the right way, with breezy California melodies courtesy Bishop Allen, The Donkeys, Tulsa, and Vacations.
Five-day passes have sold out. For full lineups, including daily in-store performances at Reckless Records in Lakeview, visit www.schubas.com.
— Steve Forstneger
Category: Stage Buzz, Weekly