Franz Nicolay
Empty Bottle, Chicago
Saturday, January 17, 2009
The House Cafe, DeKalb
Sunday, January 18, 2009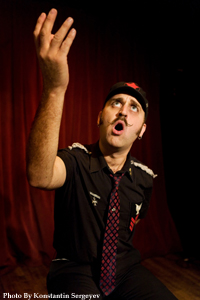 Craig Finn may be The Hold Steady's undisputed attention-grabber thanks to his ability to transform everyday, mundane events into bar-rockin' anthems and a unique, free-form spoken-word delivery, but HS keyboardist Franz Nicolay's solo record makes a solid case for who the band's most diverse songwriting talent is.
On Thursday, the 15th, The Hold Steady (and Tom Morello) play the House Of Blues then return to Brooklyn for a few weeks before jetting to Australia. Nicolay, though, will stick around a few days after his band's HOB gig to wrap up his mini tour in support of the recently – very recently, as in Tuesday the 13th – released solo debut, Major General. Despite the praise the with-it music critics dump on The Hold Steady every time they release a record (the most recent being last year's Stay Positive), the schtick is kind of wearing thin, isn't it? The whole "Best Bar Band In The World" thing was legit for awhile, but at some point, you just want the singer to occasionally sing, or grunt, or pig squeal . . . or anything besides talk in rhythm. So we can't blame you for approaching Major General hesitantly. Don't. Nicolay's varied resume includes his ongoing stint with World/Inferno Friendship Society, session gigs with Leftover Crack and The Living End, and performances with The Dresden Dolls (whose drummer, Brian Viglione, plays on Major General) and Against Me! He's well-traveled, and it shows in the spectrum of styles Nicolay lays down on Major General (Fistolo), be it the lounge-ish "I'm Done Singing," the punk rock of "Jeff Penalty" (about one of two non-Jello Biafra Dead Kennedys singers), the jazzy ("Do We Not Live In Dreams"), or Springsteen guitar rock of "Confessions Of An Ineffective Cassanova."
The Syllable Section and The Balkaners open.
— Trevor Fisher
Click here to download Franz Nicolay's "World/Inferno Vs. The End Of The World."
Category: Stage Buzz, Weekly