Labelle
Chicago Theatre, Chicago
Saturday, January 10, 2009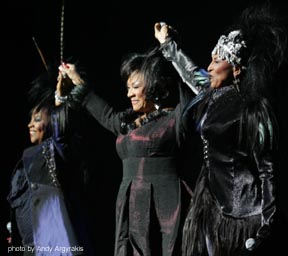 With 32 years between studio albums and just as long since last embarking on a full-fledged tour, vocal trio Labelle sure had to make up for lots of lost time. Of course, now that Patti LaBelle (the "B" intentionally capitalized), Nona Hendryx, and Sarah Dash are in their 60s, they might not have been as limber or slender (save the svelte Hendrix) as they were in their 30s, but could still jump around the playground when it came to vocal acrobatics.
Between those high-pitched harmonies throughout the sultry standard "Miss Otis Regrets," feathered black gowns, and hairdos that looked like a product of sticking their fingers in light sockets, it was impossible not to notice Labelle was back. However, across the next two hours, the question wasn't so much if they could merely replicate the past, but whether it could come to life in the present.
In some instances, the aging ladies defied the sands of time, swiftly switching between funk-induced oldies like "Messin' With My Mind" and "You Turn Me On," with cuts from 2008's Back To Now (Verve). The new disc's best moments feature production from Lenny Kravitz and Labelle appeared particularly fond of his Philly-soul treatment. "Candlelight" coasted with class and "Superlover" oozed with sexuality, mirrored by the trio's hip-swivels, which were thrust with such confidence they didn't seem silly even at senior status.
But sometimes Labelle got carried away when trying to cater to a younger crowd, primarily the new cut "Rollout," a duet with Wyclef Jean on record that's presumably pumped up with Auto-Tune. Though the studio trickery was absent during the concert, the contrived club beats sounded like a foolish flashback to Cher's '90s resurgence, boasting painfully predictable lines like "Wave your hands in the air/like you just don't care."
The aura of "Lady Marmalade" was also tarnished thanks to a series of male audience members hamming it up on stage with stupid dance moves and mostly tone-deaf sing-alongs. Still, the vocal radiance prior to the improv portion, and later, the booming ballad "Come Into My Life" could run circles around many of today's divas.
Though the evening was billed as a creative partnership between the three women, Hendryx was recognized as the group's primary songwriter and Dash (a Rolling Stones/Keith Richards And The X-pensive Winos alum) shined with some sky-high soloing during "Can I Speak To You Before You Go To Hollywood?" Yet shortly after, LaBelle reemerged in a new dress (that looked more like a hastily hemmed shower curtain) and took several cards out of Diana Ross' playbook to clearly take the driver's seat.
"I love you Chicago," she gushed, later thanking "my band" and proclaiming "I've got a new attitude" as she changed into a new pair of heels. The others merely smiled, nodded, and submitted the spotlight, saving their emotions for jaw-dropping version of "Isn't It A Shame?," after which LaBelle collected several bouquets of roses and distributed just a handful of single stems to the others.
Come the finale "What Can I Do For You?" (backed by a full choir) all three singers at least sounded like they were back on the same page. While they did indeed bring an innovative slice of 1976 to today, it's unclear if the unexpected reunion will last past a short string of winter dates or if the claws will come out and steer the otherwise soulful ship back to shore.
— Andy Argyrakis
Category: Live Reviews, Weekly