Two vital women, American folk singer and civil-rights activist Odetta and South Africa's voice of hope and freedom, Miriam Makeba, passed away within weeks of one another in late 2008. Makeba, 76, died of cardiac arrest after performing in Italy November 9th, and Odetta Holmes, 77, succumbed to heart disease December 2nd. Though they weren't there to see Barack Obama sworn in as the 44th President Of The United States (Odetta was hoping to perform at the inauguration), they must have felt immense pride and a sense of accomplishment in helping paving the way for him to get there.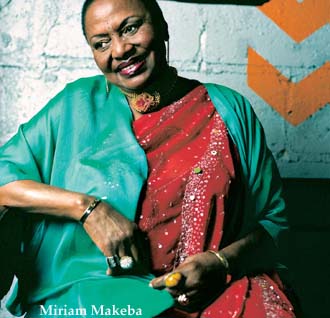 Odetta and Makeba both dedicated their lives to spreading the cause of freedom and fighting injustice in words and music. With her resonant voice and acoustic guitar, Odetta mesmerized audiences with tales of Southern brutality and the struggle to overcome. She created an American songbook of ballads, blues, work songs, prison songs, spirituals, and civil-rights anthems that inspired countless people, from activists such as Rosa Parks to then up-and-coming folk singers Bob Dylan and Joan Baez. Her songs, "I'm On My Way" and "Oh Freedom," were sung as marchers made their way toward Washington D.C. on August 28th, 1963.
Makeba played a similar role in South Africa. Known as "Mama Afrika," Makeba lived in exile for 30 years due to her outspoken stance on apartheid. She was allowed to return in 1990 when Nelson Mandela was released from prison. Makeba is known for the dance song "Pata Pata," which became a worldwide hit in 1960.
Like Odetta, Makeba created a unique body of work that drew on regional folk idioms. She mined traditional African music from the past and mixed it with jazz, folk, and pop to create a contemporary sensibility. A controversial figure throughout her career, she was married several times, once to black-power activist Stokely Carmichael. Despite her immense popularity, she found herself blackballed from the American music industry for a time, due to the marriage.
Odetta and Makeba's careers each spanned five decades, with a few minor lulls along the way. Both these exceptional women were distinctive performers who marshaled prodigious talents to make the world a better place. May they rest in peace.
NEW RELEASES: Cadillac Records: Music From The Motion Picture (Sony) is the soundtrack from the movie loosely based on Chicago's legendary Chess Records. There's no need to go into the movie here – it is a superficial telling of this gritty and important Chicago story. The focus of the movie is the soundtrack – the story is just a mish-mash of fact and fancy. The cast of characters who sing make the music work – Jeffrey Wright as Muddy Waters, Beyoncé as Etta James, and Mos Def as Chuck Berry. The songs are sequenced to form a history of pop music with the Chess pieces as the forerunners. "I'm A Man," "At Last," "No Particular Place To Go," and "I'm Your Hoochie Coochie Man" precede "Let's Take A Walk" by Raphael Saadiq, "6 O'Clock Blues" by Solange, "The Sound" by Mary, Mary, and "Bridging The Gap" by Nas with Olu Dara. A bonus for hardcore blues fans is the inclusion of Little Walter's version of "Last Night."
There is a genuine Chicago connection to Cadillac Records: The producers actually went out and hired some local blues musicians. The band includes guitarists Billy Flynn (actually from Wisconsin but a great interpreter of Chicago blues), Eddie Taylor Jr., legendary Howlin' Wolf guitarist Hubert Sumlin, and pianist Barrelhouse Chuck. Other bluesmen include Kim Wilson on harp, and Canned Heat's Larry Taylor on bass.
More New Releases: Mark Hummel's Blues Harmonica Blowouts: Still Here And Gone (Electro-Fi) is an ambitious two-disc set retrospective of Hummel and friends blowing at various clubs in the Bay Area from 1993 to 2007. Hummel has assembled some of his favorite performances throughout the years by fellow harpmen James Harman, Billy Boy Arnold, Rick Estrin, Magic Dick, Lee Oskar, Carey Bell, Lazy Lester, Sam Myers, and William Clarke. The title refers to those musicians who are still alive and playing and to those – Paul Delay, Clarke, Bell, and Myers – who have passed on.
REISSUE: Howlin' Wolf: Rockin' The Blues – Live in Germany 1964 (Acrobat) was originally released in the United Kingdom in 2003. Howlin' Wolf and his band of top Chicago musicians – Hubert Sumlin (guitar), Sunnyland Slim (piano), Willie Dixon (bass), and Clifton James (drums) – were captured live in Bremen on the last leg of a European tour that began as part of the American Folk Blues Festival.
Rockin' The Blues features Howlin' Wolf and his quartet of stellar musicians stepping outside of the more familiar rough-and-tumble Chicago blues they are known for, and it works. The music has a laid-back, jazz feel to it. Wolf had already recorded his best sides for Chess, with their hair-raising intensity, but this night that intensity was more contained. Perhaps it's the mono recording or perhaps it was the venue and the audience. Or perhaps Wolf and the band were taking the "Folk Blues" title to heart, seeking to pare the music down to its most essential element. There is no curtain-climbing fervor here, just some flawless, "small band" blues played and sung with feeling. Rockin' The Blues is a must-have CD that swings from the opener, "Shake It For Me," to the closer, Wolf's infamous "Forty-Four."
– Beverly Zeldin-Palmer
Category: Columns, Monthly, Sweet Home