Yes
Chicago Theatre, Chicago
Wednesday, December 3, 2008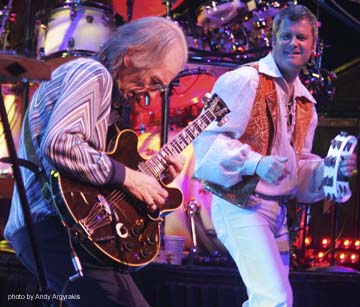 When guitarist Steve Howe, bassist Chris Squire, and drummer Alan White stepped on the Chicago Theatre's stage, it was evident this wasn't going to be the same old Yes show: five years of aging since their last appearance, new keyboardist Oliver Wakeman (longtime ivory tickler Rick's son), and a green frontman, Benoît David. No Jon Anderson, whose respiratory problems continue to plague him (and the group's ability to draw), meant the band (or perhaps more accurately, brand) attempted to move on without him.
Despite the core trio having several strikes against them and no new album to promote, this "In The Present" tour wasn't nearly as disastrous as it could've been. In fact, the players sounded just as technically precise as ever, while the addition of David (former leader of tribute band Close To The Edge) breathed some new life into several old warhorses.
Besides merely doing his homework, the new singer truly consumed the material given his genuine passion for the band, sounding exactly like Anderson on many occasions, such as the sky-high suite "Your Move/I've Seen All Good People." Yet the new Yes didn't just stick to the most obvious song selections, daring to revisit 1980's Drama for refreshed renditions of "Tempus Fugit" and "Machine Messiah" (which Anderson refused to sing because they were recorded during his solo hiatus by Yes' only other frontman, Trevor Horn).
As the evening wore on with familiar favorites like "Long Distance Runaround," deep cuts "Onward" and "Astral Traveller," plus Squire's solo "Aliens (Are Only Us From The Future)," the normally expressionless performers were more animated than ever. The progressive rock staple "Starship Trooper" also served as an epic moment to end the initial portion of the evening, with David offering his most dead-on Anderson impression over the entire two-and-a-half-hour affair.
Yes could've come back for the encore with equal steam, but instead raced through the motions of its commercial apex, "Owner Of A Lonely Heart." Though it remains the group's catchiest tune, some members (particularly Howe) have disdain for the commercial nature of the cut and didn't deliver with the concentration of the above. The grand finale "Roundabout" is also known for regular radio airplay, but given the more complicated guitar parts and room for extended solos, it developed with greater improvisational interest.
But when the band took its final bow, even the generally satisfactory performance couldn't cover up for Anderson or even the semi-retired senior Wakeman's absence. It may work for Journey (now three singers removed from Steve Perry with audiences who appear more interested in the songs than the singer), but when applied to Yes and its freakishly faithful, it leaned closer to a glorified cover band. Until Anderson, in particular, is healthy enough to return, the core's credibility will continue be in question, even if everyone's playing is still up to par.
— Andy Argyrakis
Category: Live Reviews, Weekly