Fall Out Boy
Chicago Theatre, Chicago
Tuesday, December 2, 2008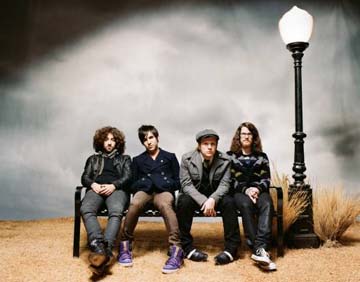 About an hour into Fall Out Boy's performance last Tuesday night at the Chicago Theatre, the unexpected happened. The power pop pride of Wilmette abandoned their reliable setlist staples and instead veered suddenly and unexpectedly into more showy, theatrical territory.
For "Headfirst Slide Into Cooperstown On A Bad Bet," one of the stand-out moments off the band's forthcoming fifth album Folie à Deux (Island), the group elevated their stage show to a whole new level. Incorporating towering, cartoonish scenery displays as well as choreographed dancers in full-body bear suits and enticing woodland nymph outfits, dancing spastically in time to the jerky, rhythmic "Cooperstown," Fall Out Boy notably upped their game. Not a moment too soon, either, in a show that alternated between sporadically ambitious and safely standard.
The foursome hit the Chicago Theatre in advance of Folie à Deux, but disappointingly avoided offering much of a preview. (A somewhat baffling choice, as the performance will be broadcast on the Fuse television network the night the album is released.) Instead, the group visited a steady slew of time-tested crowd-pleasers from their previous efforts including "Thnks fr th Mmrs," "This Ain't A Scene, It's An Arms Race," and "Chicago Is So Two Years Ago." Further enstablishing the outfit's surefire connection with the room, bassist Pete Wentz briefly shared his thoughts on tween phenomenon Twilight, which he viewed as a movie about "smelling people's hair." It was a move that came off more than a little transparent and pandering, drawing easy applause.
Thankfully, as evidenced on "Cooperstown," the band did have at least a few new tricks up their sleeves, expanding beyond the expected scope of a typical Fall Out Boy show. Preceding Folie à Deux hit "I Don't Care," the group lowered a massive screen that played a brief video clip, with a mess of text morphing to read "Fall Out Boy Is Just Beginning," before giving way to footage of a nuclear explosion. The song also found the outfit utilizing guitars and bass featuring flashing digital lights, with guitarist Joe Trohman inserting playful, showy licks throughout the song's end. Later, on "America's Suitehearts," one of the only other à Deux moments, the band unleashed a flurry of neon, cookie-sized paper bears from the ceiling, raining down upon the audience and leading to a frenzied rush to collect handfuls of the specialty souvenirs. It wouldn't be the last rush of the evening, as the band prompted a mad dash towards the stage for show closer and Take This To Your Grave staple "Saturday," while the band performed with the least threatening rock show pyrotechnics ever sparking brightly behind them.
In a night of expected fan favorites, Fall Out Boy demonstrated they can successfully surprise the room, with ideas and ambitions that only served to enliven their show. Should they decide to pursue those ambitions further and more frequently, it would serve to benefit not only the audience, but the band.
— Jaime de'Medici
Category: Live Reviews, Weekly