Amanda Palmer
Metro, Chicago
Wednesday, December 3, 2008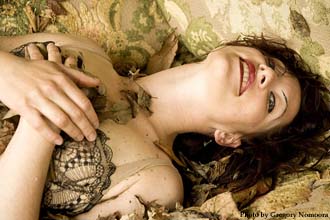 As fans found out Wednesday evening at Metro, an Amanda Palmer "solo" show isn't a solo show at all. Not even close, in fact.
Two songs ("Astronaut" and "Ampersand") into the 60-something minute set, it appeared the Metro crowd was destined for the same snooze fest some of Illinois Entertainer's colleagues called Palmer's Lakeshore Theater performance in August. Flanked by a cellist and violinist, the singer-songwriter of cabaret punk duo The Dresden Dolls was as melancholy as possible. Third song "Blake Says" didn't do anything to change the mood, but when a threesome of thespians – The Danger Ensemble – appeared onstage to act out the song, it became obvious Palmer knew, wisely, she couldn't carry a show seated at a piano for an hour and opted instead for a collaborative musical-theater performance.
Once Palmer (dressed in a corset dress) pounded (emphasize pounded) the opening chords of Dresden Dolls' "Vaseline," her stool began to rock violently back and forth, and at that point the crowd — an enthusiastic, semi-obsessive, semi-stalkerish bunch erupted. After the song, Palmer finally spoke: "Hello Chicago. I'm so fucking glad to be here tonight!" She then thanked Metro patrons "very fucking much for Barack Obama."
The head-scratcher going into Palmer's solo album, Who Killed Amanda Palmer (Roadrunner), was how necessary is a solo album by the half of Dresden Dolls (drummer Brian Viglione completes the group) who writes and sings all the the Dolls' songs anyway? And the question going into this tour, especially after the underwhelming warm-up a few months prior, was could she pull off a headlining set without her main collaborator? Despite Roadrunner's (a label that made its name with King Diamond and Obituary releases) absurd claims — according to Palmer — her songs weren't good enough, Who Killed Amanda Palmer should show up in many critics year-end lists (including this one's), and a stinker at Lakeshore Theater behind her, Palmer proved, with a little help from friends, she can pull off a hell of a show.
The Danger Ensemble dressed in school uniforms for the harrowing "Strength Through Music," a song about school shootings, joined Palmer in a hilarious lip-sync of Rihanna's "Umbrella," collected tips from audience members (the Australians are doing the tour for free) in boots while openers The Builders And The Butchers accompanied Palmer on a terrific cover of Bon Jovi's "Livin' On A Prayer," and formed a massive kick line (along with a host of other Palmer peeps who emerged from backstage) during the closer, and Who Killed Amanda Palmer's best song, "Leeds United."
It wasn't an Amanda Palmer solo show, but it was a great show. So who cares?
— Trevor Fisher
Category: Live Reviews, Weekly