Oasis/Ryan Adams & The Cardinals
Allstate Arena, Rosemont
Friday, December 12, 2008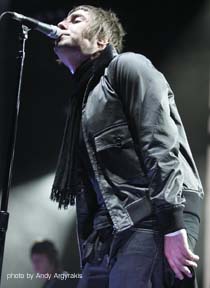 People assume Oasis' best days are gone. Mainstream attention (especially in America) has waned considerably, evidenced by a sparsely filled balcony during a single night at Allstate Arena (which the Gallagher brothers sold out consecutive nights during their prime).
Just because the limelight has faded doesn't mean Oasis didn't put on a massive rock show, however. Frontman Liam Gallagher remains cockier than Kanye West and stood coldly in front of his microphone, but his vocals soared through the rafters and helped guide the current lineup (which has gelled quite impressively despite a drummer swap).
Though on tour in support of the new Dig Out Your Soul (Big Brother/Reprise), the evening revolved mostly around older albums, specifically Oasis' Definitely Maybe debut and the enduring (What's The Story) Morning Glory. The gang added some gasoline to "Rock N' Roll Star," "Lyla," and "Cigarettes & Alcohol," verifying their stadium credentials (even amid the empty seats), while grinding through "Morning Glory" with greasy distortion and Liam's signature screams.
Sparring partner/brother/guitarist Noel showcased a more pleasant vocal range during the sublime "The Importance Of Being Idle," a 2005 tune that deserved more attention than it received. Liam attempted to return the favor with the pensive new cut "I'm Outta Time," but outside of Oasis' calling card "Wonderwall," he better served the alt-rock anthems. Though fellow fresh cuts "The Shock Of The Lightning" and "Waiting For The Rapture" didn't evoke the hysteria of the charging "Supersonic," both did retain the tried-and-true Oasis formula without sounding glaringly derivative.
Still, sing-alongs like Noel's resplendent "Don't Look Back In Anger" and Liam's lengthy "Champagne Supernova" earned the most adoration as portals to the mid-'90s. Given the band's overall traction throughout its 105-minute offering, it may have very well been the time period's influence, but they faced a harsh reality: Brit-pop's flagship have since become another selection in the jukebox of nostalgia.
Ryan Adams & The Cardinals were cast as the evening's support act, but the alt-country collaborators are certainly worthy of headlining status. In fact, many concertgoers took their seats prior to the troupe's hour-long set, though the group's aggressive arsenal translated better in the mammoth settings than more subdued selections.
"Cobwebs" and "Crossed Out Name" came out with a whiskey-soaked bang, while "When The Stars Go Blue" (later covered as a duet by The Corrs and Bono, plus Tim McGraw) helped add familiarity for the uninitiated. But softer songs like "Let It Ride" and "I Taught Myself How To Grow Old" (leading to a heckled request for Bryan Adams' "Summer of '69") were best left for the club circuit, which is still the most proper setting for this otherwise accomplished troubadour.
— Andy Argyrakis
Category: Live Reviews, Weekly