Neil Young
Allstate Arena, Rosemont
Tuesday, December 9, 2008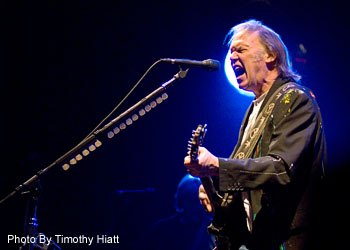 With blistering guitar work that threatened to overshadow his well-crafted songs, Neil Young managed to tear the face off everyone brave enough to make the trek through blizzard-like conditions. Looking downright sprightly with his trusty six-string never out of reach, Young wasted little time during a two-hour-plus set packed with classic cuts ("Cinnamon Girl") and new political treatises ("Fuel Line") to address the half-capacity crowd. Instead, Young let his fingers do the talking. Opening with "Love And Only Love," Young set the evening's tone with the axe he fondly refers to as "Old Black" and never let up, despite an acoustic middle section.
Clad in sneakers and a paint-splattered blazer, Young led a sharp band (Chad Cromwell on drums, Ben Keith on guitar, Rick Rosas on bass, and wife Pegi Young and Anthony Crawford adding vocals) through the wilderness of his prolific output. The 63-year-old sneered with all the defiance and curled upper lip of a man not yet of age to legally belly up to the bar for a drink on "Rockin' In The Free World" and yet channeled Gandalf-worthy wisdom and world-weariness on a stark "The Needle And The Damage Done" within the same hour.
Underneath every "Guitar Hero" lies a sensitive balladeer. Young allowed his fast-moving rock 'n' roll express to take a pit stop for a string of songs gentle enough lull the grandkids into a peaceful slumber. "Oh, Lonesome Me" put a lump in the throat of anyone without a date for New Years' Eve this year, while the fresh "Light A Candle" quickly delivered beleaguered hope to the same demographic.
Despite the frightful weather outside, the arena transformed into a humid, swamp thanks to the sludgy grooves of Dr. John. Channeling his own chariacture of Jim Henson's Dr. Teeth, the New Orleans-born legend shimmied and straddled a piano bench a la Tori Amos between a piano and organ for a rollicking "Down By The Riverside/Iko Iko" medley. Los Angeles-based Everest proved its sleepy debut album, Ghost Notes (Vapor), needs a big stage to fully come into its own. "Rebels In The Roses" toed the line between Neil nirvana and The Band scruffiness.
— Janine Schaults
Category: Live Reviews, Weekly