Neil Diamond
United Center, Chicago
Saturday, July 26, 2008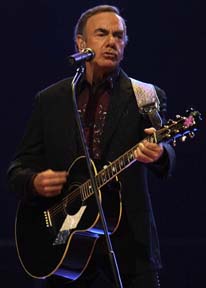 There are two distinct sides to Neil Diamond's musical personality — the legitimate singer-songwriter or the ham-fisted Vegas crooner — and usually his latest album hints at what vibe will be predominant on tour. Thankfully 2008's Home Before Dark leans in the much more astute direction of his mid-'60s beginnings, along with 2005's 12 Songs, both of which were produced by Rick Rubin.
Diamond's latest CD also marks his first chart-topping American debut. That's hard to imagine, considering a catalog ripe with hit-heavy albums spanning five decades, but nonetheless played an influential factor when sculpting this set list.
Despite the current collection being far from perfect (with Diamond's warble becoming increasingly weathered with age), he cherrypicked the disc's strongest acoustic songs and bravely tested them in arena settings. A few lines of project's most poetic piece, "One More Bite Of The Apple," actually introduced the show as the troubadour gallantly strummed his six string before merging into golden oldie "Holly Holy."
A little later he explored fellow newcomer "Don't Go There," which found Diamond picking a more ear-pleasing key and ambitious alternative country motif, along with the even more intimate "Pretty Amazing Grace." Selections from 2005's like-minded affair also showcased renewed credibility and the singer's talent as a solo wordsmith (rather than relying on co-writes or covers) with "Man Of God" framed as an old-school spiritual and "Hell Yeah" hung as a Southern blues selection.
Of course, the obligatory hits earned the most raucous reactions and there were plenty packed into two hours, though some have endured better than others. "Cherry, Cherry," "I'm A Believer," and "Cracklin' Rosie" lived up to their status as carefree retro classics and even earned slight facelifts courtesy of 11 seasoned players and three backing vocalists. Famed ballad "I Am . . . I Said" also fell close to that category, but Diamond strained to hit the high notes and relied on theatrical poses to fill the void.
Thankfully the evening avoided the hokey "Heartlight" and the even more annoying "Red, Red Wine," but Chicago couldn't be spared a mostly spoken-through version of "You Don't Bring Me Flowers," further tainted by a background singer who didn't come close to his original chemistry with Barbara Streisand. Diamond wouldn't have been allowed to leave without singing "Sweet Caroline," and he obliged, though the over-exaggerated sing-along (reprised not once, but two times too many) found the entertainer being reduced to a mere caricature of himself.
Even with some flubs along the way, seeing the star these days stretches deeper than just a nostalgia trip or regurgitation of the same old show. If anything, he aptly addressed the whims of repeat customers, catered to the new crowd, and occasionally dabbled in the less-appealing karaoke croon. It's a bizarre but generally enjoyable paradox that only Neil Diamond could live up to, which perhaps explains why he's still around at 67 and in the midst of an unexpected but undeniable comeback.
— Andy Argyrakis
Category: Live Reviews, Weekly