Dokken
First Midwest Bank Amphitheatre, Tinley Park
Sunday, August 3, 2008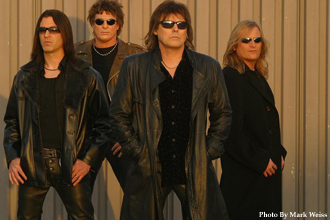 Because it's protocol for some rock critics to hate, or pretend to hate, anything associated with '80s metal, some of you will surely accuse us of ripping on Dokken's Lightning Strikes Again (Rhino) simply because of their hair metal roots. The IE editorial staff, though, pumps '80s metal from their iPods lovingly, not ironically.
So believe us when we say Strikes Again is bad. But really, did you expect anything else? Let's be honest, Dokken didn't have much going for them besides hotshot super-shredder George Lynch. Chiseled, bronzed, and a fretboard acrobat, Lynch was the MVP stuck on a small-market, perpetual loser of a team, because Dokken never compared to peers like Cinderella, Ratt, Quiet Riot, or even Winger. They went platinum, you say? So did Kix.
Lynch left the band in 1998 (though he'll reportedly join them onstage for one song at the end of August during the Rock The Bayou festival in Texas), and that's what you need to know about Strikes Again. (Current guitarist Jon Levin was/is the group's attorney, as well, if you believe Wikipedia.) "It's time that a band from our era did something special and proved that our brand of music is still valid," frontman Don Dokken says in the press materials for Strikes Again, which was released in May. "This music is as good as any we did in the '80s."
Exactly.
Dokken, along with Sebastian Bach, a rocker from Dokken's era who has released a decent record recently (listen to last year's Angel Down; you'll be surprised), open for Poison.
— Trevor Fisher
Category: Stage Buzz, Weekly