Lair Of The Minotaur
Reign In Blood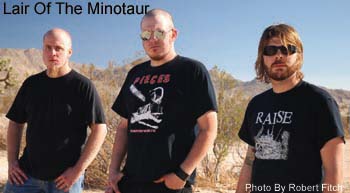 At 11 p.m. July 5th, while rowdy teenagers shot off their remaining fireworks, Lair Of The Minotaur frontman/guitarist Steve Rathbone sat indoors with family. The violent flashes they sought were to be found in the premiere of his band's video for "War Metal Battle Master," the title track from this year's Southern Lord release (their third full-length and first without Pelican drummer Larry Herweg), on MTV2's "Headbangers Ball."
Appearing: August 17th at Buzzbomb (6301 W. 73rd) in Chicago.
"It wasn't that exciting. It was like me, my wife, and my sister-in-law at the in-laws' house," the cable-less Rathbone says. "My parents watched and all that kind of stuff, which usually, there's not many things you can tell them that they can get excited about. They can understand MTV, but if you tell them 'Yeah, we're touring with Boris' — [they respond] 'Oh yeah, that sounds good.'"
Don't confuse Rathbone's relatively low-key celebration with a lack of excitement for the moment's significance: His underground Chicago band, on underground Southern Lord Records, landed a video on "Headbangers Ball," the program that raised and nurtured young, impressional headbangers and gave grizzled vets one valid reason to watch MTV from 1987 to 1995 (the year MTV pulled the plug on the program; MTV2 introduced its revised edition in 2003).
"Headbangers Ball" 2008 sure ain't "Headbangers Ball" 1991 (metalcore, metalcore, and more stinkin' metalcore), but Rathbone and bandmates bassist D.J. Barraca (who also plays with Rathbone in crazy fuckers 7000 Dying Rats) and drummer Chris Wozniak were honored nonetheless.
"I would tape it because usually the last video of the night they would play something cool, like a Napalm Death video or a Kreator video. I'd never stay up and watch it, but I'd tape it, go through the fucking VHS tape, and fast forward all the Britney Fox videos and finally see when they'd play that one all right video," he laughs.
Anyone who has seen "War Metal Battle Master" since it was posted on Lairof theminotaur.com in late March likely never expected MTV, or any other music-video channel for that matter, to touch it. Certainly not Rathbone, Barraca, and Wozniak, who were more or less told via an official MTV e-mail they were unconditionally banned from the network. "[It] was like, 'Everything in your band is not for television,'" Rathbone says, unable to finish his sentence without laughing at the message.
In the video, swords clash and blood spurts, sprays, and splashes from Akhaian Barbarians' severed limbs and decapitated heads (courtesy of Ares and Kydoimos) as Rathbone (a Greek mythology fanatic who loosely based War Metal Battle Master on Ares, the God Of War, and "solving conflicts with a big fucking axe") hisses "I grab the first one/stick a blade in his neck/I grab the one to his right/and remove his head" while his band "performs" in front of a crumbling rock archway background.
But the real fun begins when "the smell of the gore" attracts the Keres, fanged, taloned, naked, blood-coated female death spirits who dine on the flesh of the defeated and drag their souls to Hades.
What do you think director Gary Smithson's (who has done videos for High On Fire and Goatwhore, among others) casting call for the Keres looked like?
"I will say the girls were troopers, and when it turned night out there in the desert it got really fucking cold, and they were naked, basically," Rathbone explains. "They were basically kind of like nude models that [Smithson] hired, and so it could have went really bad, because we were way out in the middle of nowhere in the middle of the fucking desert, so we could have got those chicks out there and they could have just totally . . . I mean obviously they were told what was going to happen, but there's a far cry between being told what's going to happen and then when you're out there they're covered in blood, naked.
"So yeah, cheers to them."
And cheers to MTV, we suppose, for finally coming around. Only, though, after every major metal publication in the world deemed the clip the single most heavy-fucking-metal video ever created (fitting because War Metal Battle Master is likely the most metal album of the year). "I guess they were like, 'Well, I guess if these metal magazines are [giving it so much coverage] we should at least play this video on our metal show," Rathbone says.
Of course, the original uncut version had to suffer significant edits to earn airplay (both cuts will be available on a fall Minotaur DVD), which, surprisingly, didn't bother Rathbone.
"We've been going back and forth with MTV the last couple months with edits," Rathbone says. "At that point, we had our version that I wanted to create, and I have no problem with submitting a TV-safe version for people to see, because I think anyone who sees it will figure out at some point that there is an uncensored version."
Though pleased with the final result, Rathbone sounds more psyched just to have the goddamn thing finished. For a band who enter the studio (always Sanford Parker's Volume Studios) with a full album demoed (sans vocals) right down to the track sequence and exact running time, spending an entire weekend in the desert outside Lancaster, California to capture less than four minutes of footage proved trying, especially for the frontman, whose credits on the project included writer, co-producer, costumes, special effects, and assistant director.
"Yeah, it was retarded," he says, sighing. "I couldn't imagine, like, making a movie. It was a three-and-a-half minute video where half of it was band performance, so it's like . . . it's a lot of bullshit.
"I know when people have a lot of money it makes it a lot easier, but we didn't. We had a very limited budget, so that's why I wore a lot of hats and we got a lot of favors: We know people that do special effects out in Hollywood, and they came in and helped out.
"Basically it's for the hardcore horror fans and metal fans," Rathbone says adamantly. "I'm a big fan of old-school horror, and the look of conventional special effects and makeup, I don't know, [computer-generated graphics] stuff, even when it's done well, it's just too glossy. That's one thing I kind of had a problem with some of the new stuff like Diary Of The Dead and stuff: They layer on all this digital splatter stuff, and it just looks shitty. It looks like a cartoon."
Rest assured horror aficionados, the splatters in "War Metal Battle Master" are the real-deal, Karos syrup-and-food coloring B-movie special recipe.
"We had these huge tubs that were, I don't know how many gallons," Rathbone tries to remember. "And we had these fire extinguishers that were filled with blood, too. It had to be 10 gallons or so."
Or at least enough to draw MTV's ire.
"It was a ridiculous amount [of fake blood]," he now admits. "But we wanted to make sure we had enough."
— Trevor Fisher