The Bank Job
Lionsgate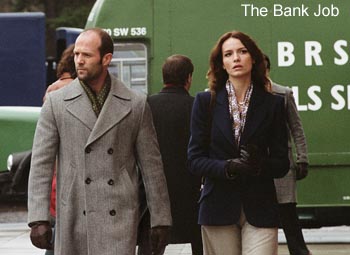 Swinging London of the late '60s/early '70s found itself at the center of the cultural universe. Music, fashion, literature . . . it was all happening there. The town also found itself at the center of the crime world in 1971 with the "Baker Street Bank Raid."
A group of petty thieves planned and executed the second largest heist in British history. By tunneling into the Lloyds Bank in the Marylebone district, they managed to make off with more than £4 million.
Loosely based on the event, The Bank Job posits a scenario of how things went down on Baker Street. Since no one was ever arrested and the British government suppressed the investigation's findings, the actual details are still murky. Hence, director Roger Donaldson is afforded a great deal of creative license.
The film perpetrates the heist was ordered by the government in an effort to recover incriminating photos of the royal family from a safe-deposit box. If the gang happened to swipe anything else while they were at it, so be it. Things go wrong, of course, when they happen to nab a list of London police officers on the take from a local club owner. That's when the film really hits its stride.
Donaldson certainly knows how to wend his way through the twists and turns of an intelligent action flick, having previously helmed No Way Out and Thirteen Days. Here, he doesn't go for the flashy Ocean's 11-13 gloss, instead letting the story play out naturally. He never lets the audience get confused by the myriad characters, and keeps the action on an even keel.
The real standout is über-actioner Jason Statham as the down-and-out chop-shop owner looking to hit the big score and thus supply a way out for his family. Statham has generally been pigeonholed in the high-octane, fist-to-the-face-and-groin pics, but here gets a chance to turn it down a notch and establish himself as the thinking man's action star. As the world-weary Terry, he hits all the right notes and only once cracks open a big can 'o' beatdown — which I believe he's contractually obligated to do.
Also faring well is Saffron Burrows as the beauty who gets roped into setting up the job. Although her character is the one most inflated for the film — investigators acknowledge there was a woman involved, but they believe she played only a minor role — Burrows does a fine job, and keeps you guessing as to whether she's playing both ends against the middle.
Special features include deleted scenes, a piece on the actual robbery (with interviews from detectives and journalists who worked the case), and commentary from Donaldson and Burrows.
Film: ***1/2 Features: ***
Neil Diamond: The Thank You Australia Concert, Live '76
Eaglevision
Ah, the summer of 1976: The Bicentennial, the big ships in New York Harbor, and four-out-of-five people dressed up like Ben Franklin. Yeah, I don't remember it either, but they tell me it was cool.
So what better way to honor the nation than to throw a huge bash thanking all your supporters in . . . Australia. Hey, it worked for Neil Diamond, and it was before "America."
The Thank You Australia Concert (can you say slow DVD month?) finds our Neil playing to about a bajillion people at Sydney's Sports Ground, and in full camp, kitsch, and open-collared mode. Already overwrought numbers like "I Am, I Said" and "Longfellow Serenade" get taken to new heights, yet others like "Solitary Man" and "Cherry Cherry" fare better.
Basically it's a mixed bag, and it's an interesting snapshot of Diamond between his initial success and his recent return to respectability.
The disc includes extra footage, a behind-the-scenes piece, and an interview.
Film: ** Features: **1/2
— Timothy Hiatt