By the time you read this, Chicago's premier axe man, Buddy Guy, will have received the first annual Great Performer Of Illinois Award on July 20th at Millennium Park. He will have hosted a record-release party at Legends on the same night, and, two days later, will have officially released his new album, Skin Deep (Zomba/Silvertone).
Skin Deep is as great as Guy's previous Silvertone releases, and in my mind, on par with his groundbreaking Chess sides. Guy was inspired by childhood memories of racial prejudice in Baton Rouge, Louisiana to write the title track. "I used to play with this boy, ride horses, down close to where I was born," he is quoted in the label's press release. "Then, when we were 13, his parents made us stop. They used to say you had black blood or white blood, but we'd get a flashlight and hold it up to our skin and we'd just see red blood. That's what I mean by 'Skin Deep.'" With the possibility of a black president on the horizon, the song is especially relevant, with the refrain, "Skin deep, skin deep, underneath we are all the same." Guy gets a little help from friends Robert Randolph, Eric Clapton, Derek Trucks, Susan Tedeschi, and Bekka Bramlett, but it is his show all the way.
Check out next month's "Sweet Home" for my in-depth Skin Deep review, along with reports on both the award ceremony and Guy's record-release party.
CHICAGO BLUES INDIE RELEASES: Born In Arkansas (Big Eye) is a bouncy, bluesy new release by Grammy-winning singer/ songwriter/harmonica Willie "Big Eyes" Smith. Smith made his reputation as Muddy Waters' drummer in the '70s at the height of his popularity. After Waters' death in 1983, Smith cofounded the Legendary Blues Band, with the remaining sidemen, Pinetop Perkins, Jerry Portnoy, and Calvin Jones.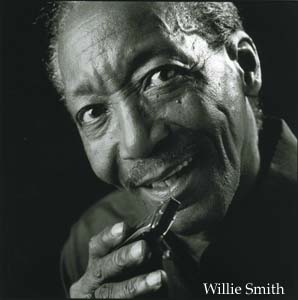 The quintessential Chicago blues drummer, Smith has moved out of the drum chair during the past few years, passing the sticks to his equally talented and in-demand son, Kenny "Beedy Eyes" Smith. Willie has been seen around town lately singing and playing the harmonica in tandem with guitarist Jimmy Burns, or as part of the Chicago Blues Round Robin, a group of veteran musicians who come together to jam on some traditional.
Smith revisits the heyday of Chicago blues on Born In Arkansas with a variety of original uptempo shuffles and slow blues reminiscent of Waters ("World In An Uproar"), Little Walter ("Dreamin'"), Otis Rush ("Rub My Back"), and others. A pleasing vocalist and an impassioned harmonica player, Smith keeps it rockin'. He is joined by his son on drums, Bob Stroger on bass, Billy Flynn and Little Frank Krakowski on guitars, and Barrelhouse Chuck on piano. The tradition of Chicago blues lives on in this heartfelt recording.
West Side Blues (Atomic H-2) is the new release by guitarist/vocalist Vernon Harrington and his Atomic Blues Band. Primarily a sideman throughout his 30-plus-year career, Harrington steps out on his own for the first time with an album that owes its spirit to his West Side roots and his guitar-playing hero, the late and very great Magic Sam. Harrington has a blues pedigree. Born and raised in Chicago's Lawndale neighborhood, he is related to guitarists Eddy Clearwater, Lurrie Bell, and the late Carey Bell. His father, Rev. Houston H. Harrington, owned Atomic-H Records, a blues and gospel label that recorded local artists in the '50s.
West Side Blues is a studio album with a live feel. Harrington has captured that after-hours, smoky-blues bar atmosphere. Harp master Billy Branch and Harrington's band provide soulful backing on a variety of covers including "Cut You Loose," "The Things That I Used To Do," "Kiddeo," and others. West Side Blues isn't out until September, but you can preview tunes at www.myspace.com/vernonharringtontheatomicbluesband.
REISSUES: John Mayall: Live At The Marquee 1969 (Eagle Rock) is a quirky recording featuring Mayall in a subdued mood at the Marquee Club in London on June 30th, 1969. This drummer-less recording features British musicians Jon Mark on acoustic guitar, Steve Thompson on bass, and Johnny Almond on tenor and alto saxophones, flute, and mouth percussion. Sound quality is fuzzy, but this scaled-down Mayall group features some cool jazz grooves – courtesy of Almond – and the bluesy shuffle "I'm Gonna Fight For You JB," a tribute to one of Mayall heroes', J.B. Lenoir . . . And This Is Free: The Life And Times Of Chicago's Legendary Maxwell Street (Shanachie) is an ambitious DVD/CD homage to this historic open-air market displaced by the City Of Chicago and the University Of Illinois At Chicago in 1994. The DVD contains the 1964 masterpiece And This Is Free, by the late filmmaker Mike Shea, and the equally compelling documentary, Maxwell Street: A Living Memory, Shuli Eshel's film about the legendary market's Jewish roots. A 30-page booklet accompanies the set and features excepts from a variety of writers who were either raised on Maxwell Street or who hung out there. The accompanying CD is a blues lover's delight, recorded live and featuring songs by Floyd Jones, Robert Nighthawk, Big John Wrencher, and Daddy Stovepipe, among others. Check out the Baby Face Leroy Trio with Muddy Waters and Little Walter, providing some melismatic moaning to an uptempo "Rollin' And Tumblin' Pt. 2."
Insights and information in this bittersweet package will leave you shaking your head about the destruction of a piece of Chicago's vital ethnic heritage.
– Beverly Zeldin-Palmer
Category: Columns, Monthly, Sweet Home