My Blueberry Nights
The Weinstein Company
Starring Norah Jones, Jude Law, Jason Strathairn, Rachel Weisz, and Natalie Portman.
First garnering American acclaim through Quentin Tarantino's championing of 1994's Chungking Express, Hong Kong director Wong Kar Wai has since become known for his beautifully innovative camera work, affecting use of music, and poetic, yet lonely characters in such films as *In The Mood For Love* and its loose sequel, 2046.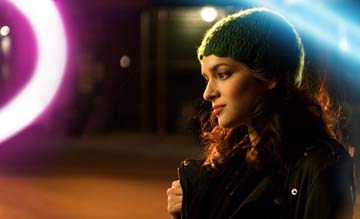 In his first English-language feature, My Blueberry Nights, Wai takes what many in the States would consider a risk by casting not only a first-time actress as the lead, but also a debutante who just happens to be a pop singer, in this case, Norah Jones. Perhaps seeing the potential for failure in such a decision, Wai surrounds Jones with a cast of much more seasoned actors, including Jude Law, Jason Straithairn, Rachel Weisz, and Natalie Portman. Needless to say, these veteran supporting players, almost – just almost – make up for the lead's minimal screen experience.
For the most part a road movie, My Blueberry Nights revolves around a young woman named Elizabeth (Jones) and her attempt to get over a heartrending break-up by gaining as much distance as possible between herself and her native New York. Bookended by scenes with Law as Jeremy, the soulful manager of a hip NYC diner, on her cross-country trip, Elizabeth encounters myriad lovelorn characters in their own right. There's a heartbroken, alcoholic police officer by the name of Arnie Copeland (Straithairn) in Memphis, his estranged wife, Sue Lynne (Weisz), and professional card shark Leslie (Portman) in Nevada. With the exception of Jones, they're all very convincing in their roles, but it is only Straithairn who appears to genuinely live and breathe in his, giving a heartbreaking performance as a man who feels completely abandoned by both love and his wife. This is hardly a slight to Law, Weisz, and Portman, though, whose only faults as actors here is that they are all far too young and beautiful to be truly believable as the jaded cynics they're supposed to be portraying.
Unfortunately, however, being surrounded by such talent really doesn't seem to do Jones any favors, as they only emphasize her overall lack of ability, which is apparent from the get-go in scenes with Law and emphasized even further when Straithairn appears.
As for the filmmaker, many of his trademarks appear here as well, in such moments as Elizabeth's instant kinship with a blueberry pie in Jeremy's diner that nobody seems to want and the impeccably dressed Sue Lynne standing next to her classic convertible at sunset in a pair of fashionable sunglasses ready to face a brand new day, leaving her troubled past behind her.
Like most of Wong Kar Wai films, My Blueberry Nights is more about the journey than it is the destination. Even so, the ending of this one is disappointing in its predictability, which one suspects can be due to the director's wanting his first English feature to be more accessible to Western audiences, although this hardly ruins the movie any more than the lead's lackluster performance does. Is it the auteur's finest film? Hardly. Does it even function as a serviceable introduction to the man's work? It doesn't quite do that, either. Tarantino got that right when he promoted the superior Chungking Express.
What it does serve as, however, is the director dipping his toe in the American market, testing the waters to see how his style translates oversees. As it turns out, though, that was never an issue, since his style has pretty much always transcended language. It only became an issue when Wai made it one, attempting to conform to what he thought his audience wanted when they had already accepted him for who he was. Like his audience, hopefully Wai will accept himself for who he is as much as they have.
— Dean Ramos